---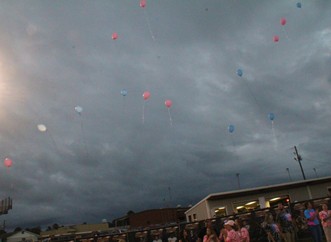 As part of Breast and Prostate cancer awareness night, survivors and family members who lost loved ones to both diseases released balloons into the air.



Last week against Dublin, BCHS trailed 19-6 with under six minutes left. However, they tried to rally, driving into Irish territory before being undone by an interception. That effort, as well as a challenge from the coaching staff at halftime, would key a comeback when the Royals hosted Washington County Friday night.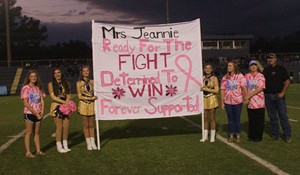 One survivor who participated is Jeannie Allen. She is pictured with husband Jason and other family members next to a sign made for her by the Royal Kingsmen Band. Allen has been a longtime supporter of the band. Daughter Jade was a Dazzler, daughter Jo is a senior Dazzler.



On Washington County's third possession, they had a pair of fourth down conversions to sustain the drive, including a fourth and four from their own 45. A touchdown run with 11:22 left in the second put the Golden Hawks up 7-0. On their next possession, BC went for it on fourth and seven from their 44 but didn't convert. They would stop Washington County and block the ensuing punt.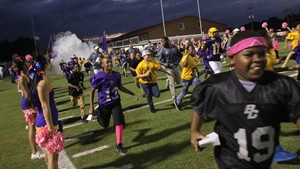 CBRD football players ran out of the tunnel as part of Rec. Department night.



Starting from the Waco 23, Zach Lassiter connected with Torenio Davis on a touchdown pass. The point after was blocked but the Royals were within 7-6. With under five minutes left in the half, a Royal drive that reached the Waco 35 was stalled on fourth down. BC would later recover a fumble on the Hawk 34 but couldn't capitalize.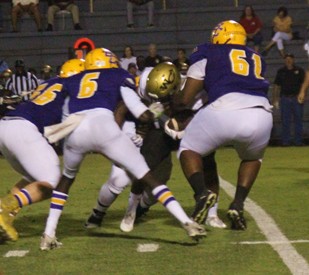 Robert Beck and Justin Rozier team up on a stop.



In the third, an offsides penalty turned what was a fourth and six on the Hawk side of the field to a fourth and one which they converted. The drive was capped on a touchdown run with 6:09 left and BC trailed 14-6.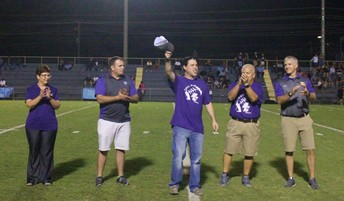 Madison Smith tips his cap to the crowd after being announced as a Teacher of the Week. Also recognized was Randy Thompson (right.) Both are pictured with assistant principals Lara Rowland, Matt Godwin, and principal Matt Gibbs.



A pass interference call on the Royals next possession when they went for it on fourth and 12 from the Waco 40 kept the drive alive. From the Waco 26, another Lassiter to Davis touchdown connection followed by Justin Rozier catching the two-point conversion tied the score at 14 with 2:11 left.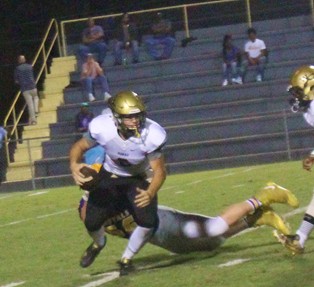 Reid Harley brings down a Golden Hawks player.



After forcing the Royals to punt from the back of their end zone in the fourth, Waco started on the BC 31. They scored with 7:49 left to go up 21-14. BCHS started their ensuing possession on the Hawk 40 following a personal foul.


A host of Royals are in on the tackle.



Two plays later, Nykeem Farrow went 42 yards, tying the game with 6:42 left. Ty Williams intercepted a pass on the Hawks next possession, returning it to the Waco four. Farrow put the Royals ahead 28-21 with 4:08 left.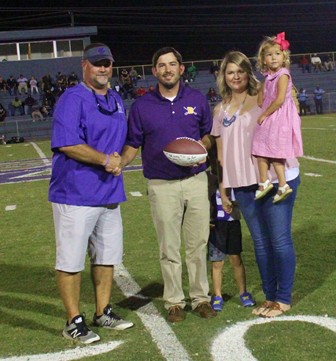 Touchdown Club President Britt Stewart presented the game ball to Friday night's game sponsor, Trent McDaniel, owner of McDaniel Pharmacy. He is pictured with wife heather and children Harrison and Emery Claire.



After stopping the Hawks, Farrow broke a 74-yard run with 2:14 left to put BC ahead 35-21. Washington County though would try to rally. The ensuing kickoff was returned to near the Royal 38.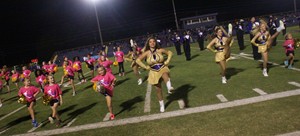 The Future Dazzlers showed what they learned during camp at halftime.



Following a deep pass to the BC 3, Waco got a short touchdown run with 1:30 left to draw within 35-28. BC recovered the onside kick at their 44. On third and 10 from the 49, Davis caught a pass and went 50 yards to again put the Royals up by two scores with 1:08 left.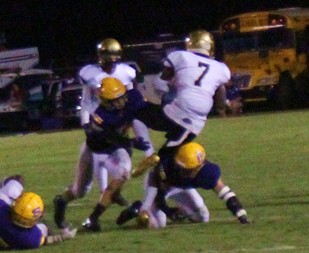 Mika Floyd with a stop.



Davis' interception in the final minute sealed Bleckley's 42-28 win. He finished with four catches for 109 yards. Farrow had 159 yards on 26 carries. Before leaving the game in the fourth with cramps, Justin Rozier had another big game defensively, eight total tackles, seven solo. Demarcus Smith had 5.5 total tackles. Reid Harley, Mika Floyd, and Williams each had 4.5 total tackles.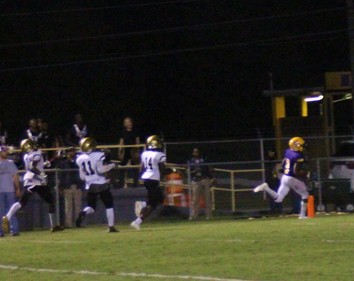 Nykeem Farrow races to the end zone.



Head coach Von Lassiter said he thought the team bounced back well after what was a tough loss against a very good Dublin team adding "It was just a blessing from God to be able to come out and play great." He described halftime as "not fun" and said they challenged the players because they knew they were better than the way they'd played during the first half.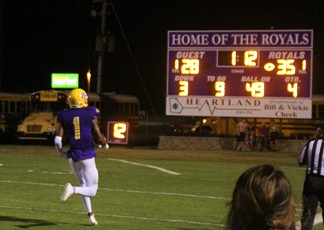 Torenio Davis had the game-clinching touchdown as well as an interception to finish things.



Lassiter said he was proud of the way players responded and praised their resolve, not just for the game but throughout the season saying, "They don't ever quit." He called the game "a great game to play at home."

BCHS plays at East Laurens October 13. Kickoff is 7:30 pm.




© Copyright by BleckleyProgess.com

Top of Page