---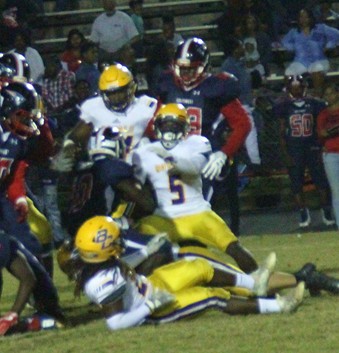 Ty Williams and Corez Walters are in on the play.



For the second week in a row, BCHS had their playoff destiny in their hands. A win at Southwest and the Royals would be in the playoffs. But for the second week in a row, they lost late. And while not to a longtime rival like Dodge County, it still hurt.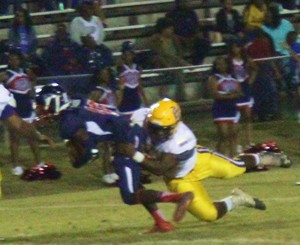 Demarcus Smith with a tackle.



Nykeem Farrow got the offense off to a good start, going 59 yards with 7:38 left in the first. The point after made it 7-0. It took less than two minutes for the Patriots answer, scoring on a 52-yard screen pass.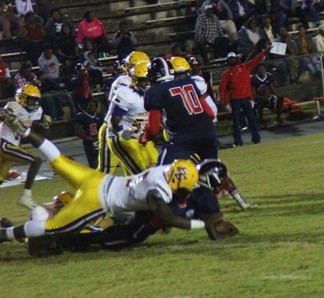 Mykel Hobes stops a Southwest player.



The two-point conversion failed but Southwest was within 7-6. They took the lead on another touchdown run with 10:34 left in the second. Again, the two-point conversion failed.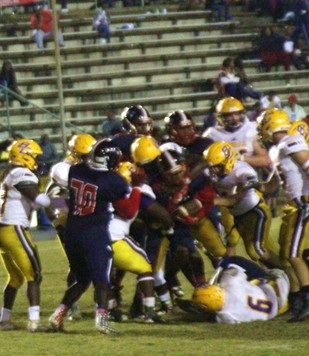 A host of Royals are in on the stop.



Arkenzio Hayes returned the ensuing kickoff to the Royal 41. However, on fourth and goal from the three, the snap was dropped. Southwest drove into BC territory toward the end of the half but was stopped.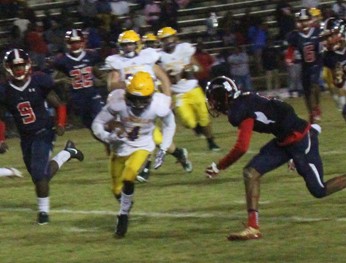 Bryce Bailey runs through a hole.



In the third, Farrow scored again, this time from 14 yards out. A two-point conversion failed but the Royals had retaken the lead, 13-12. It wouldn't last though. Aided by a personal foul and offsides penalty, Southwest got to the BC 12. They retook the lead 18-12 with 5:14 left.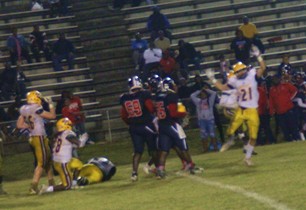 Andrew Butler and other players react to forcing a fumble in the fourth quarter.



Halfway through the fourth, BC recovered a fumble at their own 18. Facing a third and five from their 24, Zach Lassiter connected with Torenio Davis on a 76-yard touchdown strike. The conversion was successful, and BC led 21-18.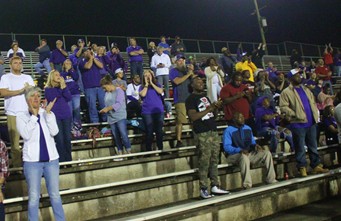 Fans cheer on the defense in the fourth.



They appeared to have the Patriots bottled up on third and 11 from their 38, but the drive was kept alive on a pass to the Royal 25. Southwest scored from a yard out with 1:36 left, and got the conversion this time to go up 26-21.

Bleckley tried to rally. Aided by a pair of pass interference calls, they reached the Patriots three. With seconds left, an apparent touchdown was called off due to a false start penalty.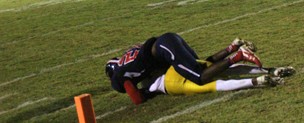 Torenio Davis was literally stopped inches from scoring.



Davis caught a pass with seven seconds left but was tackled inches from the end zone as time ran out. The Royals lost 26-21. Davis caught four balls for 131 yards. Farrow had 181 yards rushing on 21 carries. Lassiter completed 9 of 15 passes for 139 yards.

Reid Harley and Justin Rozier both had eight solo tackles as part of an 8.5 tackle night. Landon Grizzard had eight tackles, seven solo. Demarcus Smith had 7.5 tackles, six solo. Mykel Hobes had seven tackles, six solo. Tytrez Rozier had 6.5 tackles, five solo.

With Dublin winning against Washington County, thus clinching second seed, Bleckley, Waco, and Southwest are tied in region play at 3-3.

A three-team mini playoff will take place Monday, 6 pm at West Laurens High School to determine seeding. Admission $7 per person. It'll consist of two, five-minute quarters. The first between Washington County and Southwest. BC plays the loser 30 minutes after completion.

If the Royals win, they're in the playoffs. Lose and they're out. Head to head matchup in the regular season will determine who is third and fourth between the two winning teams.



© Copyright by BleckleyProgess.com

Top of Page