| | |
| --- | --- |
| | Nov 12th, 2017 - 01:38:36 |
---


What a difference a week makes. Last Saturday, BCHS had their worst competition of the season, finishing fourth at region. That same squad, with nine of 16 girls who had never been on the mat in Columbus, placed third at sectionals Friday.



Despite some still nursing injuries, one taken ill that morning, they weren't done. Buoyed by a crowd made up of people who'd stayed the night plus others who came that morning, Bleckley did something that hadn't happened in nine years.



They finished sixth. On a day when they were good, but not perfect, the same type of heart shown that helped them four trophies during the regular season was displayed on the biggest stage of al. During the pyramid, there was a bobble. One part came down early.



But unlike last week when one mistake led to others, BC did not flinch. They stayed composed, finishing with the same level of energy that had been on display throughout. Their reward came when it was time to find out who would be called to the floor, as only the top six in each division are announced.



Announcer Jeff Hulsey read the top six in alphabetical order. When he said, "Bleckley County", a loud cheer erupted. Some were crying tears of joy as they rushed to get behind the curtain and prepared to re-enter. After everything they'd been through, despite the bobble, BCHS was one of the top six teams in all of AA. It was the first time since 2008 Bleckley reached the floor.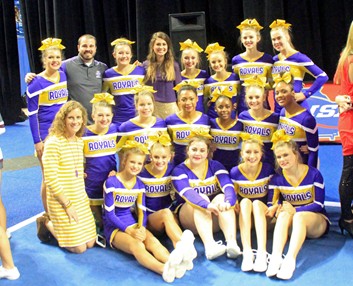 Back row L-R Caroline Pittman, Community coach Curt Gentry, Nataly Lassiter, Coach Chara Nobles, Layla Miller, Caroline Maths, Anna Brown. Second row (kneeling) L-R: Head coach Heather Davis, Abigail Kirkland, Abbi Belflower, Shy Chambers, Alexis Johnson, Rose Teston. Third row L-R: Henley Dean, Calli White, Savannah Stokes, Catlin Tilson, Caroline Turknett.



While their name wasn't announced again, it didn't quell the joy over the best weekend for BCHS cheerleading in years. Head coach Heather Davis praised the poise and perseverance of her squad saying "I'm so incredibly proud of the way the girls handled things today. When the bobble happened, it didn't stop them. They didn't fall apart. They kept going and finished strong."



© Copyright by BleckleyProgess.com

Top of Page