| | |
| --- | --- |
| | Nov 11th, 2018 - 04:02:24 |
---


One thing about the BCHS cheerleaders. They may not do things easy. But they know how to finish strong. For the second straight year, Bleckley not only followed up a good sectionals performance with an even better showing in the finals, they made history in the process.



Going on fourth meant an early start. A large group of supporters made up of those who'd stayed the night and others there for the finals, roared as announcer Jeff Hulsey called them to the floor at the Columbus Civic Center.



Feeding off the fans' energy, BC was electric on the mat. One person would remark later, "they looked like they were having fun out there." Good jumps, tight stunts, very clean. Save for one part of the pyramid coming down early, it was a great final performance for the Royals.



As the morning wore on, a nervous excitement grew. Had BC done enough to once again be one of the top six? After all, several other top squads had bobbles or other small mistakes. When it came time for the top six to be announced, the answer would be yes. Excited cheerleaders hurriedly headed behind the curtain to make their grand re-appearance on the mat.



But the story wasn't done. When Hulsey announced the top four teams, for the first time since 2004, he said "Bleckley County" again. The fourth place finish was BC's best since finishing state runner up that year. Head coach Heater Davis, who had spoken to the squad about the opportunity to finish their story following sectionals, was proud of how they did it.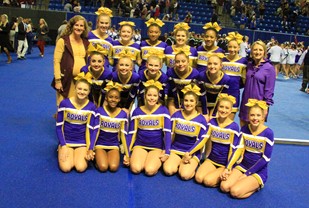 Kneeling L-R: Abigail Kirkland, Alexis Johnson, Abbi Belflower, Emileigh Darden, Caitlin Tilson, Gabbi Ragan. Second row L-R: Abby McClure, Layla Miller, Amiya Smith, Hailey Merritt, Kirsten Villarreal. Third row L-R: Head coach Heather Davis, Anna Brown, Nataly Lassiter, Shy Chambers, Caroline Pittman, Jayda James, Amiyah Thigpen, Coach Kayla Warren.



"It's been an incredible season and weekend. I love these girls so much and am so unbelievably proud of them. They finished their story today, and it had a great ending!"



© Copyright by BleckleyProgess.com

Top of Page