---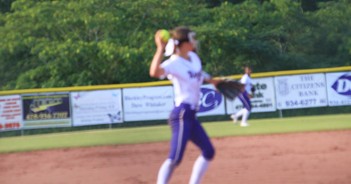 Jordyn Krieg sets to throw to first.



BCHS came into Tuesday's region opener versus East Laurens on a offensive cold streak. The Lady Royals had been no-hit their past two games. Though the offense was still light, they got a big hit when needed to prevail.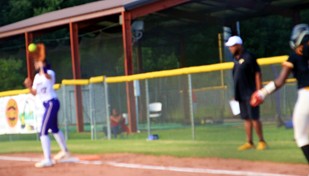 Kenna Bowman receives the ball.



Leading 1-0 on a combination of walk, stolen base, and errors, EL got a two-run single in the third. Rebecca Bowling, who reached in the home half on a hit by pitch, scored the tying run on a wild pitch.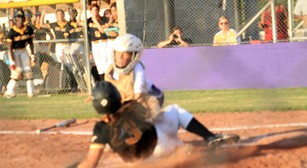 Rebecca Bowling tags out a runner trying to score in the sixth inning.



Ter'Nazia Elvine got BC's first hit in 14 innings in the fourth on a bunt single. In the sixth, the Lady Falcons had two on with two out. EL tried to score the runner from second with two outs on a hit. Thanks to a great relay throw, she was tagged out at home.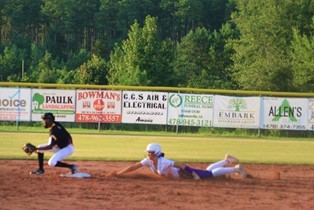 Addison Hill slides into second base.



Addison Hill doubled to lead off the home half. Riley Haley then connected on a two-run home run, the first of her high school career, to break the tie. EL got a single with one out, but the runner was thrown out trying to steal second.



Sierra Fansioli tags out a runner trying to steal second.



Jordyn Krieg struck out the final batter to preserve BC's 4-2 win. Bleckley had four hits, Emmie Williams went 1 for 2. Region play continues at home August 18 versus Swainsboro at 5:30 pm.



© Copyright by BleckleyProgess.com

Top of Page