| | |
| --- | --- |
| | Apr 17th, 2013 - 21:22:43 |
---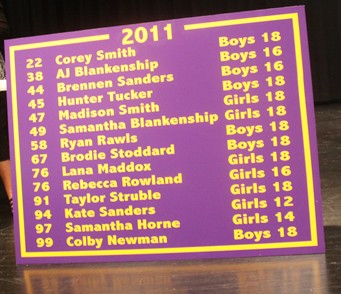 This board represents Bleckley tennis players who are in the Georgia USTA top100.



In remarks made after the presentation of middle school awards at Monday's BCHS/BCMS tennis awards ceremony, high school head coach Brad Sanders said he doesn't produce good players. He simply helped them to succeed if they wanted to play.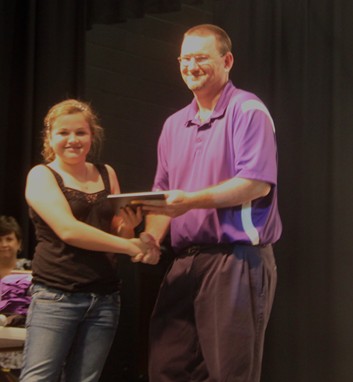 Girls Most Improved Player Kate Sanders.



The high school and middle school tennis programs have worked together for years. Some players who would receive awards for the Royals and Lady Royals were on the stage a few years ago being presented awards by middle school coach Greg Collins. Both Collins and Sanders have had hands in making Bleckley tennis a name.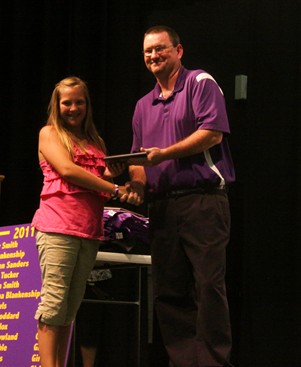 Girls Impact Player Regan Cole.



After opening remarks by Sanders and a slide show, Collins presented middle school awards. The girls this year finished fourth in MGMSAA play with a 6-4 record, the boys third, 7-3. Collins expressed hope that players returning next year could use this season as motivation to win region.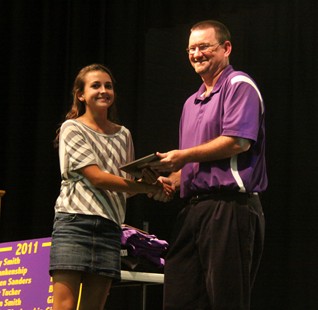 One half of the outstanding doubles girls team Hannah Dykes.



All the players received certificates. Specific team awards were as follows. Outstanding Singles: Girls, Samantha Horne. Boys, Bronson Sanders. Outstanding Doubles: Girls, Tiffany Richards and Hannah Dykes. Boys, Dylan Cole and Curry Young. Most Improved: Girls, Kate Sanders. Boys, Jason McDowell.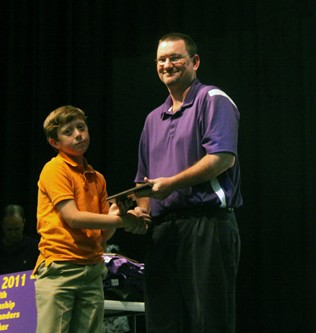 Outstanding Singles (boys) Bronson Sanders.



Instant Impact Award: Girls, Regan Cole. Boy, Colin Newman and Matt Cuneo. Coaches' Award: Chase Brannen. Collins ended by thanking parents for their support throughout the season.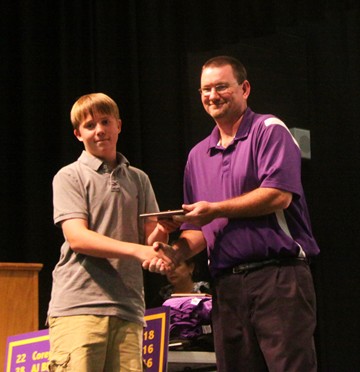 One half of the outstanding doubles team, Dylan Cole.



High school players received T-shirts. Sanders had praise for both teams' seasons. Both finished 20-5, won region and advanced to the AA semifinals.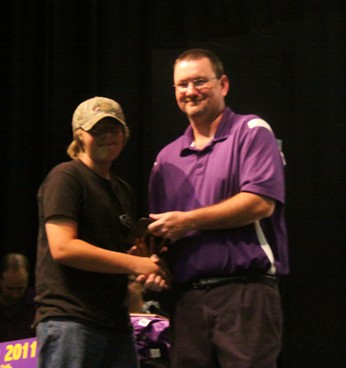 Most Improved boys player Jason McDowell.



For the boys, it was a 14th straight region title and 12th straight semifinal appearance. The girls have won seven straight region titles and have made seven straight semifinals.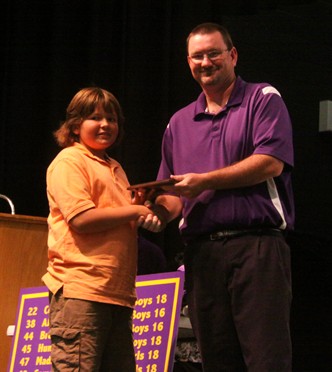 Impact Award winner Colin Newman.



Team awards were was follows. Outstanding Doubles: Girls, Emmie Meadows and Lana Maddox. Boys: Brennan Sanders and AJ Blankenship. Most Improved: Girls, Kelsey Darsey. Boys, Kyle Dennard and Jacob Gilbert. Outstanding Singles: Girls, Madison Smith. Boys, Corey Smith.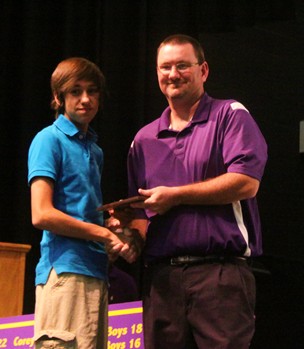 Coaches' Award Winner Chase Brannen.



Tom Horton Award; Girls, Taylor Struble. Boys, Brodie Stoddard and Colby Newman. Senior players received plaques of appreciation, in turn they had gifts for the coaching staff. A memory box filled with comments was presented on behalf of the parents by Melissa Blankenship.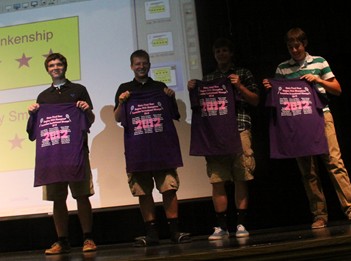 Boys team members show off the T-shirts they received.



Sanders was truly touched by the praise and compliments and said his goal was to make the team like a family. Cogratulations to all the award winners.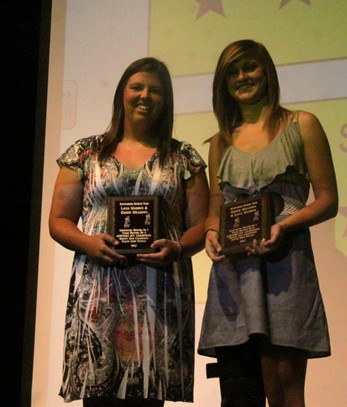 Girls Outstanding Doubles Lana Maddox and Emmie Meadows.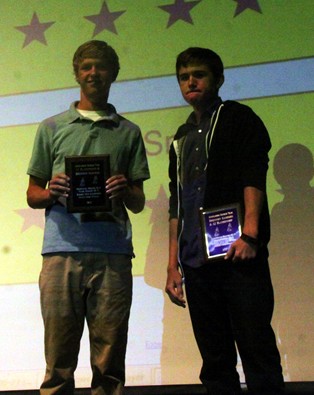 Boys Outstanding Doubles Brennan Sanders and AJ Blankenship.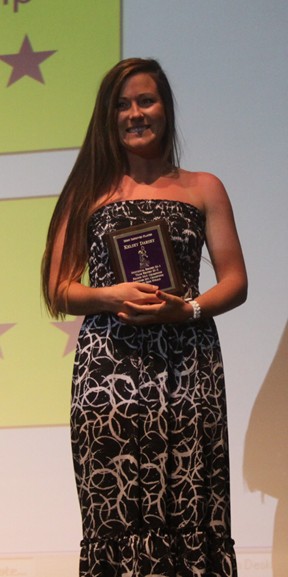 Most Improved Girls Player Kelsey Darsey.
Co-Most Improved Boys Players Kyle Dennard and Jacob Gilbert.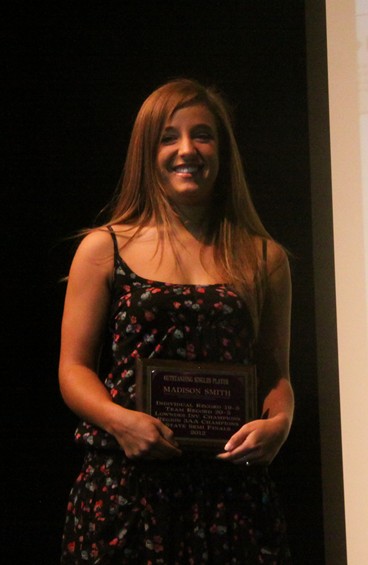 Outstanding Girls Singles Player Madison Smith.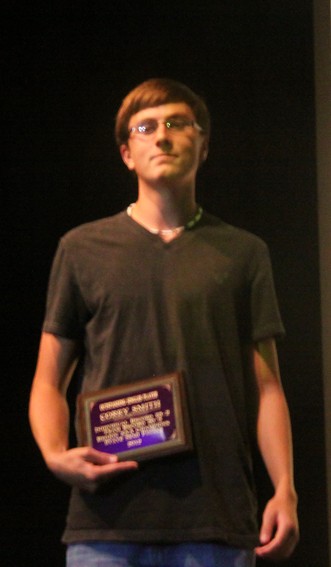 Outstanding Boys Singles Player Corey Smith.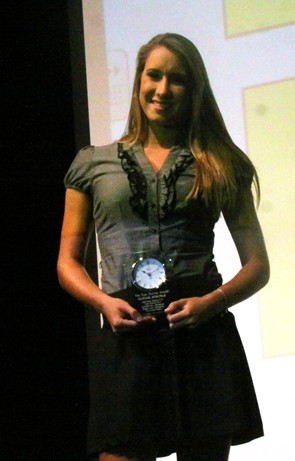 Taylor Struble won the Tom Horton Award for the girls. Of Struble, head coach Brad Sanders said they couldn't have done it without her.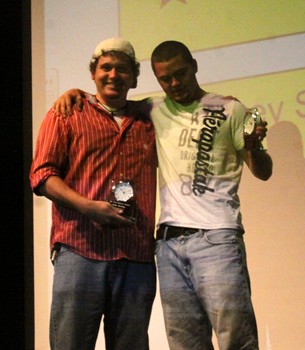 Co-winners of the Tom Horton Award for boys Colby Newman and Brodie Stoddard. Sanders praised the pair for the classy way they handled what he described as a "very tough situation" at state.
© Copyright 2009 by BleckleyProgess.com

Top of Page