| | |
| --- | --- |
| | Sep 14th, 2012 - 23:48:37 |
---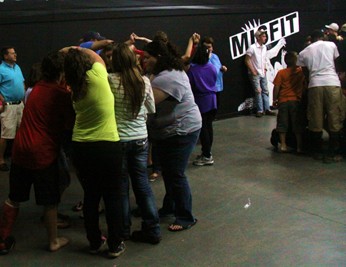 Youth try to untagle themselves without releasing their hands in a game called "knot."



It was after 9 pm at House Of Grace and the Matthew White Band was still playing. Though "Friday Night Light" had officially ended, there youth still inside the youth room. Over 100 attended the first of what's planned to be an annual event during the Royals football off week.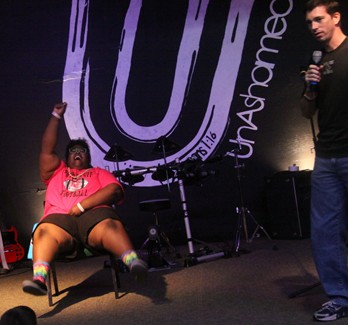 Desmond Joshiah was part of a group told to act out certain things. The groups instructions were given outside the room. He was instructed to act out different things for five seconds such as riding a bull. Limestone youth pastor Jason Johnson said they acting out how things went in the bathroom.



Churches from all over Bleckley and other counties attended including First Baptist, First United Methodist, Limestone Baptist Church, New Life Church Of God, and First Assembly Of God. Next year's event is expected to be held in a different location.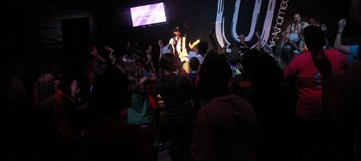 Youth clap and jump as the Matthew White Band plays.



The evening was a mix of fun and serious. Limestone youth pastor Jason Johnson led the group in some games early on. Energetic music followed by a video telling the story of the "me" linebacker. He was someone who would literally knock sense into people when they became too focused on themselves.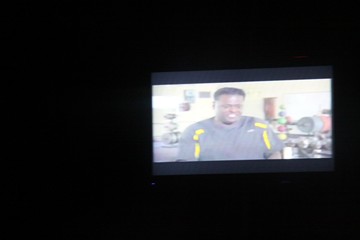 The "Me Linebacker" explained that it wasn't about "me" it was about "we."



Quay Cook and Samantha Miller of the BCHS Fellowship Of Christian Athletes spoke. Cook spoke of how while his position (offensive line) didn't allow him to score a touchdown, he was always happy when the team did. He equated the drive to score with life in that with Jesus, even if the defense knocked you back, you'd eventually reach the end zone.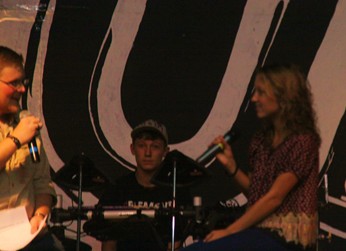 Samantha Miller spoke about what FCA was and that you did not have to be an athlete to join. Janice Bryan is the middle school advisor, Ted Belflower for high school.



Miller recounted the story of how Jesus took the two fish and five loaves of bread and fed multitudes. She then went on to talk about how the crowd sought out Jesus, not to hear from Him, but only to be fed. Miller read Jesus saying that those who follow him would not be hungry. She said God wanted you all the time, not just on Sundays, etc.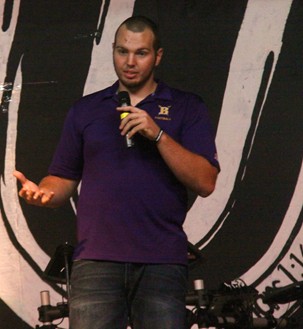 Quay Cook used football to equate being able to score with Jesus, and not giving up when life knocked you backwards.



Charlie Wilson and Eli Phinazee performed a skit called "Sin Chair." In it, Phinzaee, despite a sign warning him not to touch it, sat in the "sin chair." He would become stuck. Wilson, through prayer and explaining Phinazee how to ask Jesus into his life, was able to get free.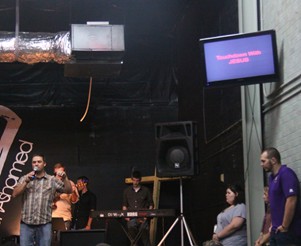 Pastor Shane Allen used tthe football theme to say you could score a "touchdown with Jesus."



House Of Grace Youth Pastor Shane Allen tied the evening together during his message. He equated the battle between God and Satan as two football teams. The devil's team thought they had control. But Jesus, as Allen called him an "all star", came in and picked the pass off. WIth Him, you'd reach the end zone.

Allen said that through Jesus, if you were stuck in a "sin chair," He could get you out. Volunteers from all churches lined up at the front for any youth who wished to dedicate or recommit their life. Those volunteers with youth from different churches were asked on stage to demonstrate that it wasn't about church or demonination "it was about Jesus."

Afterwards, Allen said he was "estatic" about the turnout, adding that over 10 churches from Bleckley and surrouding counties "who came to be part of what God's doing at Friday Night Light." He said, "It's exciting to be able to serve God by serving people."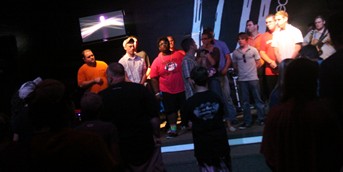 Members of different demoniations gathered on stage to demonstrate that it was about Jesus, not about a particular church.



He said it was their heart and the hearts of the other churches because "It's about the Kingdom of God. It's not about indidivdual churches, it's about building the church of Jesus Christ."


© Copyright 2009 by BleckleyProgess.com

Top of Page