---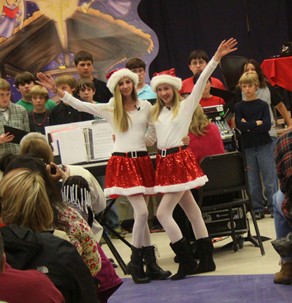 Korey Fancis and Katlyn Sanders sang "Santa Baby."



High school athletes being developed at the middle school level is common knowledge. However, some potential future One Act cast members and Royal Singers took the stage Tuesday.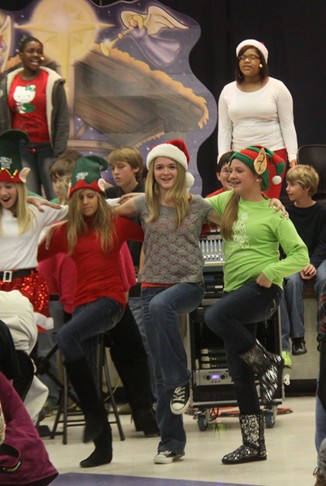 Students perform a kick line as Chania McRae and Summer Riddley sing "All I want for Christmas is you."



The seventh and eighth grade choirs of BCMS, under the direction of Kelli Greer, put on a concert and then performed "The Best Christmas Pageant Ever." It was part of a fundraising evening which included a blind auction.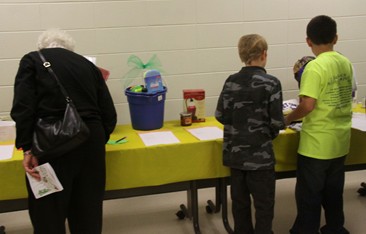 People look over items for sale during the blind auction.



Money raised will go toward general school needs. Items, which were donated by the community, were available to browse and bid on during intermission.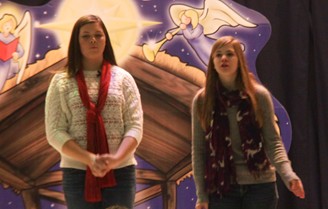 Mary (Brittany Sanders) and Beth (Maggie Collins) also served as narrators for the play.



Several students performed solos or duets during the concert. "The Best Christmas Pageant Ever" was a humerous tale about putting on a pageant of the Christams Story.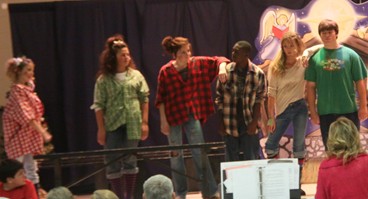 The Herdmans were terrors, feared by all. But they would bring a unique flavor to the pageant. Gladys (Victoria Paulk, left) played the Angel Of The Lord in the church pageant. Her announcement of Jesus' birth was along the lines of "Hey, look! Jesus is born! He's in the barn!"



Grace Bradley (Jade Allen) becomes director of her churches Christmas Pageant when Mrs. Armstrong (Kaitlyn Pope) injures herself. Her job becomes more complex when the Herdmans visit.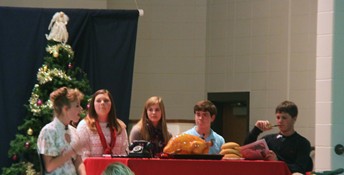 Grace Bradley (Jade Allen) had trouble getting her family involved in the pageant. Her husband (Chance Pittman) at first would ask "Do I have to go." It was Charlie (second from right, JonHolland Jones) who got the Herdmans to church.



The Herdmans are a brood of six children. They bully others, they smoke, curse, and are loathed by all. It was Charlie Bradley (JonHolland Jones) bragging about snacks received that get the Herdmans to come.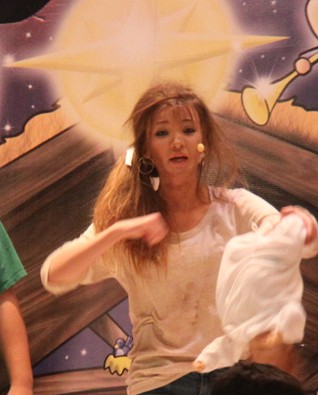 Imojean Herdman (Erica Rickerson) got the role of Mary. Her idea to "burp" the baby during their journey was understood as practical. Just like Leroy Herdman (Karoon Bloodworth) who decided his gift as a Wise Man would be a ham for the family to eat.



They wind up volunteering to be in the play, taking the main roles. Despite antics like smoking in the church bathroom, their uniqueness makes the pageant one to remember.



The cast sings together for a finale.



Next year and beyond, when many of these actors and actresses are on stage for BCHS, people will remember their performances here.




© Copyright 2009 by BleckleyProgess.com

Top of Page