---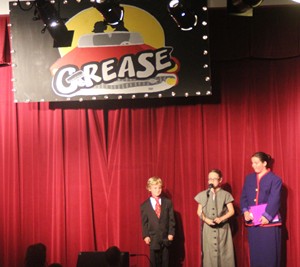 Principal Miss Lynch (Katie Thompson) with Vince and Vonda Fontane (Clay Warren, Lacy Kate Lucas.)



Before Friday's opening performance of Grease, director Mi Waters said there was future talent on stage. The cast with a mix of young children and teenagers learned an old stage parable "The show must go on."



The show opened with a performance of We Go Together.



They sang, they made the audience laugh with funny lines, they danced. But sometimes on the stage, technical difficulties happen. There were some that took place during the show. But thanks to Waters, Kelli Greer, and other adults nearby helping out, the cast worked through it and kept the crowd entertained.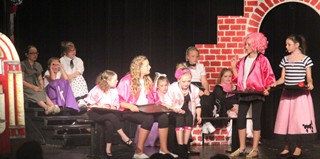 Frenchy introduces Sandy to the other girls.



Cassidy Carden played Sandy, the teeen who changed her plans and came to Rydell High. DJ Yearty was Danny, the boy who stole her heart during the summer but broke it when they first met because of his affliation with the Thunderbirds. Lauren Fisher Seville played Betty Rizzo, leader of the Pink Ladies.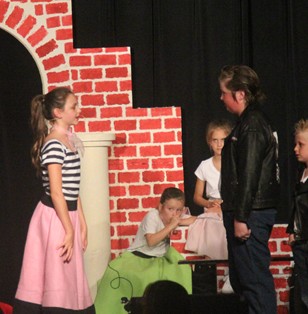 Sandy and Danny meet for the first time at Rydell.



The play featured all the classic numbers including Hopelessly Devoted to You, Summer Nights, Look at Me I'm Sandr Dee performed by Rizzo, as well as Marty (Amelia Hulsey) singing Freddy My Love, and Frenchy (Cadence Huff) along with the Teen Angels performing Beauty School Dropout.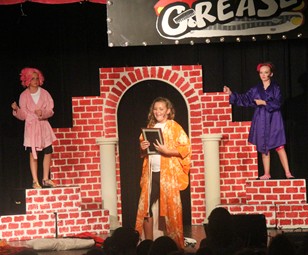 Marty and other Pink Ladies performing Freddy My Love.



A crowd favorite was T-Bird Kenickie played by Kooper Hill. They rocked along as he sang Greased Lightning. Many of the songs got the crowd clapping their hands and tapping their toes including when the cast danced to "Born To Hand Jive."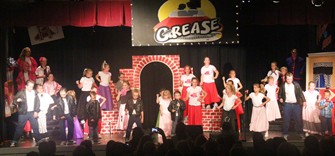 Kenickie got the crowd going singing Greased Lightning.



There will be Saturday shows at 2 and 7 pm. Those attending the 7 pm showing can hear the same great songs with another person as Sandy, Ashlynne Corbin. Should you attend? As Kenickie might say, the show is hydromatic, as fun as Grease Lightning!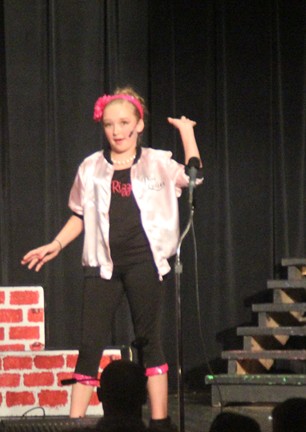 Rizzo sings the mocking Look At Me I'm Sanda Dee.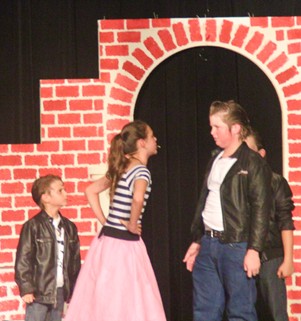 Danny is shocked to hear Sandy tell him she doesn't need him.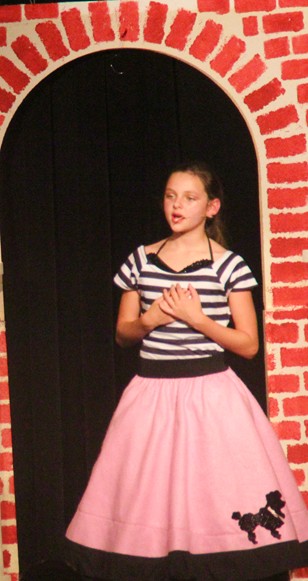 Sandy sings Hopelessly Devoted To You.

The dance contest where everyone hand jived.

Frenchy and the Teen Angels perform Beauty School Dropout.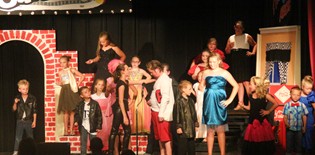 Danny is informed "he better shape up" during a performance of You're The One That I want.
© Copyright 2013 by BleckleyProgess.com

Top of Page