---
Greg Senters, who is a parent to two of my players, invited our team to visit the patients at the VA to offer some smiles and conversation to make their day brighter.

In the past, our team visited The Georgia Academy of the Blind in Macon to visit the school of our team manager. The experiences the boys came away with their visit were life changing. Our trip to the VA would be similar in that respect.

The facilities were immaculate. Several remodeling projects were made to improve the stay for the patients. I was overwhelmed with the amount of pride each one of the patients had for their country.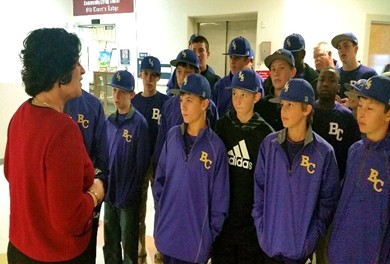 Maryalice Morro speaks to the team before their visit.



To have served for our country and receive the necessary services the hospital provides to make their transition back to normal day to day activities while making them comfortable during their time in the hospital was amazing. We saw several veterans that worked or provided care for the patients.

I was proud of our players conduct during the visit. I told them prior to visiting the hospital about how they should conduct themselves. The players greeted the patients throughout the hospital.

Before we left the school, the team signed baseballs to be given to the patients. Many of the patients played baseball when they were younger, so receiving the baseball was a small token of our appreciation for what they have done to protect our country.

Because of their service and protection, we can play a game that we truly love. I had a parent of one of the players just continue to talk about their visit and how we impacted their lives for a short period of time.

Several times before our visit, I would educate the players on various patients they may see on their visit. These patients were veterans that have served to protect our country in various capacities, so the wounds they would see may not be familiar to them.

As an educator and coach, I am responsible for teaching the entire student, not just focusing on books or sports. These life experiences will stay with them forever, and in time may share those experiences with others.

Each of the veterans we visited made an impact on our players. Several veterans carried on a conversation with our players and talked about their involvement with sports or their commitments to our country.

One veteran in particular made a huge impact on me and I'm sure he touched the players in a positive way. He made remarks to the players about how they should live a good life. He also added to not follow the wrong crowd.

To see the some of the choices he made and the results of his choices, left a lasting impact on the young people. I feel each of the veterans had a positive day as a result of us visiting them. Many of these patients are not visited by friends and loved ones, so when our players went by their room to share a smile or carry on a conversation, it made for a positive experience for everyone involved.

I always tell my players that baseball is just a way for us to build relationships with others. The game of baseball is just a small part of our lives but how we use the game of baseball to impact other people shows how much character we have.

A comment that one of our players made to a patient that really touched me was, "each time we play, we will think of you." For a young man to make that comment among the many other positive comments to the patients, proves how much our players were impacted by their visit.

These experiences are very profound in a person's life. As these players become more familiar with service men and their commitment to our country, I hope they continue their commitment to honor them.


© Copyright by BleckleyProgess.com

Top of Page