---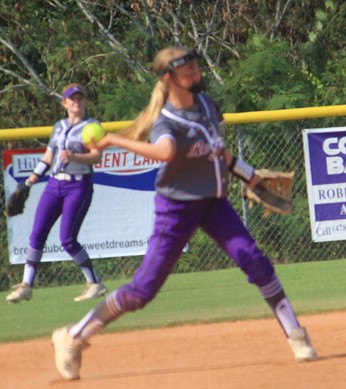 Regan Wimberly sets to throw from second base.



BCHS played a rare regular season varsity doubleheader, hosting Wilcox County Monday afternoon. Originally set to be JV and varsity games, it was changed following last month's weather cancellation of the game in Rochelle.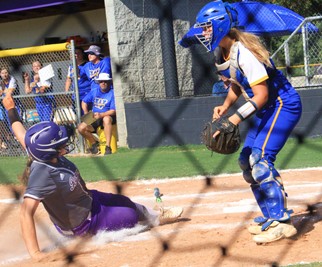 Riley Edge scores.



The Lady Royals were visitors in game one. Down 1-0 in the second, the leadoff batter reached but was left stranded. They stranded two on with no out in the first. Riley Edge walked in the fourth. She scored on a Macey Haley sac fly. Landa Dominy's two-out RBI single in the fifth put Bleckley on top. Wilcox though would score three in the bottom of the sixth.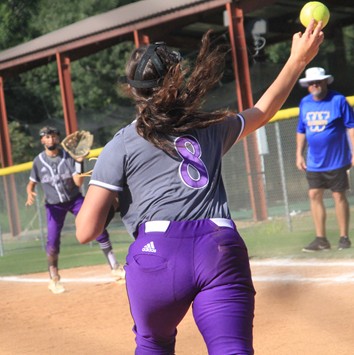 Emily Sanders throws to first following a bunt.



E'Lisia Vickers doubled with one out in the seventh but did not score as the Lady Royals lost 4-2. BC had just three hits. Already leading 2-0 in game two, Vickers walked to start the bottom of the second. She reached again on an error that same inning. Eight runs were scored. Abbey Sims crushed a solo home run over the left field fence in the third.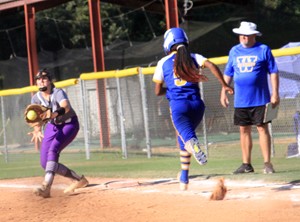 Caroline Thrower receives a ball at first base for an out.



Bleckley rolled to victory 11-2. Sims finished 1 for 2 with 2 RBI. Caroline Thrower went 3 for 3 with an RBI double. Riley Edge was 2 for 3 with 1 RBI. Regan Wimberly went 1 for 2 with 1 RBI. Region play resumes tomorrow at Dublin High School. Game time is 5:30 pm.



© Copyright by BleckleyProgess.com

Top of Page