---


BCMS opened their 2021 competition season Saturday morning at the Middle Georgia Cheer Classic. It'd been a tough time for the squad going in, losing two members to injury, plus several girls having to quarantine. One was out that morning due to COVID.



One thing that helped was the good crowd of family and friends who were in the priority seating section inside the Northside High School gym for when the Barons took the mat. They gave BC a loud ovation as they were introduced.



The first performance had some good and some places that needed improvement. Tumbling was solid. Stunts looked good, all stayed up. There were timing issues including the pyramid never really going up.



Still, the squad's effort under adverse circumstances was awarded with another loud ovation at the performance's end. When it came time for awards, there was another loud cheer from those wearing purple and gold when it was announced first place in the small school division, Bleckley County!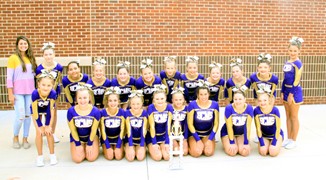 The squad with head coach Chara Nobles.



While the trophy was great, it was understood that there was room for improvement. The Barons will look to do that September 25 at the West Laurens Raider Rumble.



© Copyright by BleckleyProgess.com

Top of Page