---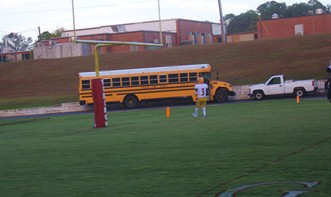 Nykeem Farrow with one of his two touchdowns.



With the threat of raiin Friday night, the Royals played a very rare Thursday night football game, traveling to Treutlen County. Fans who made the trip down I-16 saw another display of what the offense could do during the first half.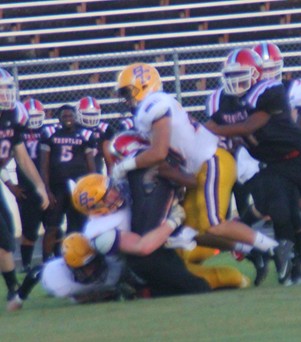 Several Royals help on the stop.



Bleckley was aggressive early, going for it on fourth and three from the Treutlen 47 on their first possession. Nykeem Farrow would follow with a 43-yard touchdown run. The aggressiveness continued afterward as Brice Bailey ran in a two-point conversion, giving BC an 8-0 lead with 10:34 left.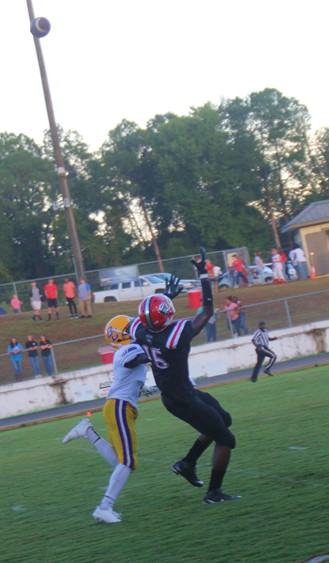 Akensio Hayes keeps a Treutlen player from making a catch.



Minutes later Torenio Davis pulled a ball away from a Viking defender and went 48 yards to the end zone. With 8:34 left, Bleckley led 15-0. After scoring the conversion earlier, Bailey broke a 24-yard run on the Royals next possession. It was 22-0 before the first quarter even ended.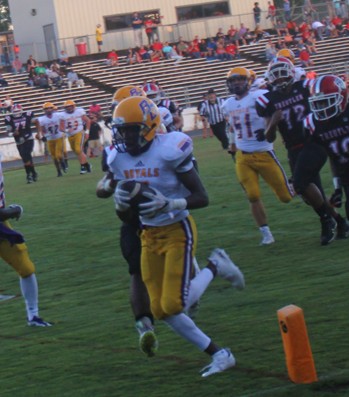 Bryce Baiely scored three touchdowns.



Treutlen would then drive to the BC 27, a Justin Rozier interception ended the threat. Lassiter connected with Bailey on a touchdown, Davis caught the conversion, and BCHS led 30-0 early in the second. After stopping the Vikings again, Farrow broke a run to their five. Bailey scored two plays later, Bleckley led 37-0 with 8:26 left in the half.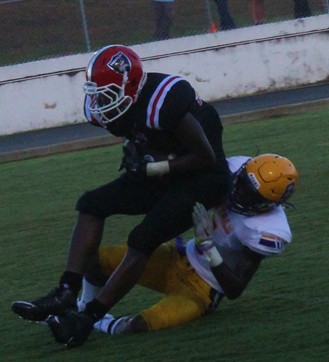 Justin Rozier with a tackle.



After scoring on five straight possessions, BC was stopped on their sixth. But just before the half ended, Farrow dashed 41 yards for his second touchdown of the game. Leading 44-0 in the second half, defensive reserves started. Treutlen got a touchdown run with 7:47 left, missed the two-point conversion. They attempted an onside kick.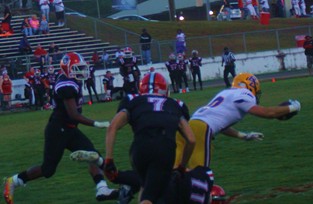 Jack Fernandez fights for yards.



Bleckley recovered, and bought back out the first team offense. Less than two minutes later, Davis had his second touchdown catch of the game. The Royals went on to win 51-12.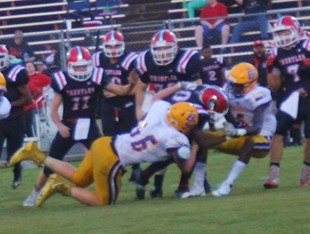 Reid Haley helps bring down a Viking player.



Davis caught five passes for 114 yards, two touchdowns. Bailey had a career best 104 yards receiving, and caught two touchdowns. Farrow ran for 129 yards on six carries. Zach Lassiter went 13 of 18 for 242 yards with four touchdown passes, no turnovers.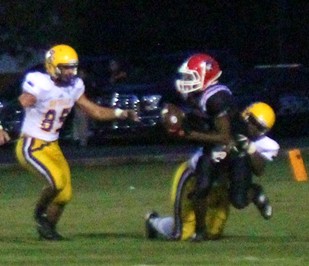 Willie Harris sacks the quarterback.



Defensively, Justin Rozier and Chandler Jessman each had four tackles, three solo tackles. Keyshon Back had 3.5 total tackles, Tytrez Rozier, three.

BCHS plays at Wilcox County September 8. Kickoff is 7:30 pm.




© Copyright by BleckleyProgess.com

Top of Page