---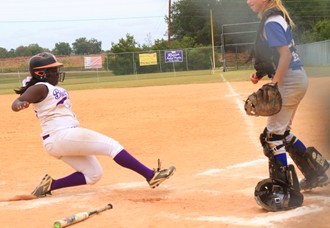 E'Lisia Vickers had a double in the first inning and scored here on JaNylah West's double.



It was a big day at BCMS. Bleckley was hosting the MGMSAA softball semifinals and finals for the first time since they were moved from Southern Pines. The Lady Barons sought their first region title since BCMS won back to back titles in 2004 and 2005.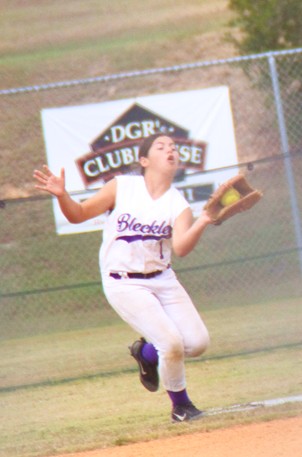 Clara Rickerson makes a running catch.



Millie Hulsey hit her first career home run, a grand slam, helping to lift the Lady Barons 11-3 over fourth seed JR Trippe in the first semifinal. Their finals opponent would be West Laurens who defeated third seed Dodge County 9-5.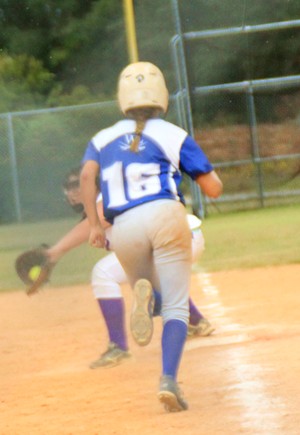 Veronica Lee completes an out at first base.



Tied at one in the bottom of the third, Addisyn Keel put BC ahead with a three-run home run. An RBI groundout by Hulsey in the fifth made it 5-1. WL loaded the bases with one out in the sixth but only got a sac fly. Keel retired the Lady Raiders in order in the seventh as BCMS won the MGMSAA Region Title 5-2. Keel struck out six.



Darci Dillard gets under an infield popup.



The win capped a season that saw BC sweep the regular season series from Dodge County and split with West Laurens. Both teams had been stumbling blocks in past years. Head coach Mike Lee attributed them getting over the proverbial hump to having success last year.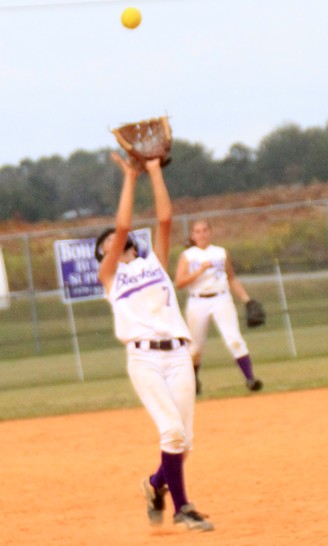 Reagan Wimberly caught the game's final out.



"Last year when we played them (West Laurens) in the regular season, we split with them. And when we got to the playoffs last year, since we'd split with them, we had a mindset that we could at least play with them. We got over that hump by beating them 4-3 (in the semifinals."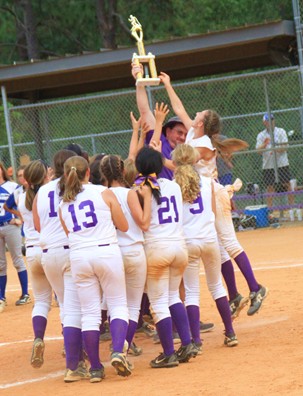 Players crowd the trophy being held by athletic director Greg Collins.



Lee note the first game this season (the one region loss) against West Laurens in Cochran was scoreless going to the eighth. He said, "We knew we could play with them." It was proven later on when Bleckley avenged that loss by winning at West Laurens.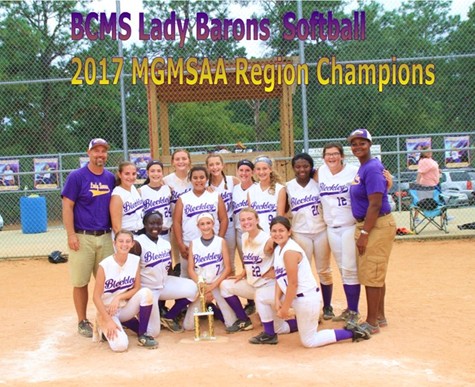 Kneeling L-R: Addisyn Keel, E'Lisia Vickers, Reagan Wimberly, Darci Dillard, Clara Rickerson. Second row L-R: Coach Mike Lee, NenaBeth Mickle, Kourtney Whitehead, Riley Haley, JaNylah West, Veronica Lee, Coach Shemeka Sanders. Back row L-R: Millie Hulsey, Ivy Wynne, Mallory Sears.



As to Dodge County, who beat the Lady Barons in last year's title game, Lee called the August win in Eastman "big." They would sweep the Lady Warriors, the first sweep in years, with a walkoff win in September. Bleckley finishes the season 15-2.



© Copyright by BleckleyProgess.com

Top of Page