---


Eight cheerleaders lost to high school. Only 12 on the mat for most of the season, 13 in Swainsboro and at Monday's MGMSAA region championship. BCMS though had done well this season, two first place finishes, two second place in four competitions.



However, in front of an overflow crowd at Dublin Middle School was where their best performance took place. The second team out, a large contingent of family and friends were on hand in support.



They were treated to high energy, crisp motions, every stunt sticking, great execution of everything. At one point, head coach Becky Smith turned to the crowd to exhort even more cheers from an already loud purple and gold contingent.



An excited squad left the gym following their performance. Loud cheers welcomed them back to await results. Choosing to focus on the competition, BC was spectators during the stunt and lib off events. The biggest cheer of all came when places were announced.



Third place, East Laurens. Second place, Dodge County. "And we have first place, Bleckley County!" The squad and supporters erupted in celebration. BCMS was region champion for the third straight year. Unbeknownst to all, it was the first time in school history cheerleading had won three straight region titles.



Smith attributed their success this season to raising the level of difficulty in their routine as well as holding this year's squad to the same expectations as in past seasons.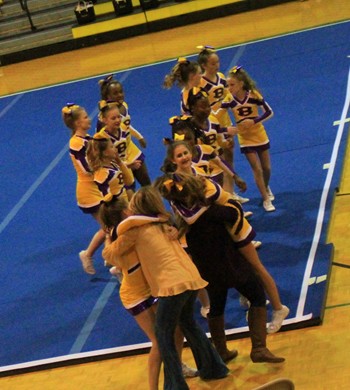 Coaches react after the performance



On the performance, she said "They looked amazing," adding "Either way we (she and assistant coach Liz Brown) would've been happy because they left it all on the mat."


Standing L-R: Shanise Floyd, Ebryanna Hall, Hailey Rambo, Jasmine Smith, Coach Liz Brown, Coach Becky Smith, Ella Rich, Hailey Merritt, Chesney White. Kneeling L-R: Shianna Harden, Graycen Phinazee, Isabelle Bennett, Amaya Smith, Gabbi Ragan, Amiyah Thigpen.



For a cheerleading coach, that's all you can ask.



© Copyright by BleckleyProgess.com

Top of Page