---


A healthier BCHS took the mat Saturday afternoon at the West Laurens Raider Rumble. The Royals were one of 12 AA teams, including three region opponents. In many ways, it felt like a return to form for the tradition-rich program, winner of over a dozen region titles and two state titles.



Fans started the familiar chant of "Bleckley County!" as the squad prepared to enter. They erupted as emcee Brad Meeks said, "Bleckley County, you may take the floor." Once he said they could begin, the group of family and friends saw what the potential of a very special squad on display.



Four stunt groups with flyers pulling everything and staying in the air. The most tumbling for a BCHS squad in years. Smooth transitions, good motions. An improvement from last week, the pyramid went up, a corner of the end stunt came down a few seconds early. While last week's opening performance in Houston County was good, Bleckley was even better Saturday.



Being the first squad meant getting to see other squads, including other perennial state visitors like Vidalia and Fitzgerald, but also a long afternoon. When it was time for awards, the wait would prove worth it. Third place, Dodge County. Second place, Screven County. Meeks then said the words that cause more screams of joy from all those supporting BC.



"First place, and also the grand champion, Bleckley County High School!" While technically it was only AA squads, so the Royals would've automatically had the highest overall score placing first, the announcement still brought joy to all.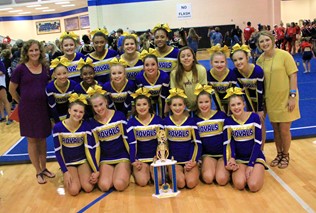 The squad with coaches Heather Davis and Kayla Warren.



BCHS will seek to keep their momentum going September 29 in Lyons at the Toombs Cheer Dawg Classic.



© Copyright by BleckleyProgess.com

Top of Page