---


After taking on 11 squads last week at West Laurens, the competition was smaller for BCHS at the Toombs Cheer Dawg Classic. But it was tough competition. Bacon County finished fourth at state. Screven County, a former region rival of the Royals, was state runner up last year.



Another reason for traveling to Toombs was to be scored by a different panel of judges. Different judges can offer critiques which help coaches know what areas of the routine need to be improved on, as well as what works.



Though not as big as last week's, a large crowd of family and friends still traveled down I-16 in support. They welcomed BC to the mat with a loud cheer. It was another strong performance for the Royals. Crisp tumbling, good motions, high energy, all stunts stuck.



A group came in second in the lib off competition. Emileigh Darden, Abbi Belflower, and Jayda James all did well in the jump off. While their names were not called during the awards ceremony, one important announcement was made.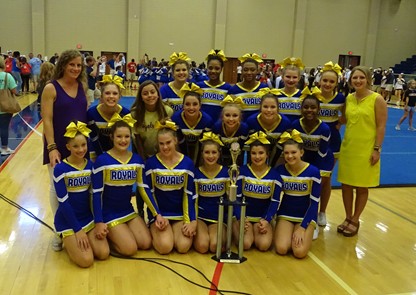 The squad with coaches Heather Davis and Kayla Warren.



That being first place, Bleckley County! The Royals placed first again, beating both Bacon and Screven. Scores were different, allowing coaches to see what different judges thought. BC will seek to win the Battle at the Colosseum hosted by Johns Creek High School October 6.



© Copyright by BleckleyProgess.com

Top of Page