| | |
| --- | --- |
| | Dec 18th, 2018 - 00:02:08 |
---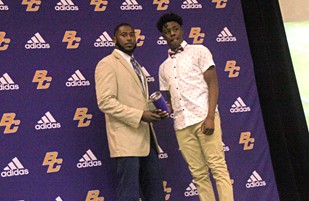 Jamir Marshall with Coach Derrick Farrow.



"You play to win the game." Those simple words once said by Herm Edwards are true of football coaches at any level. They want to win. During his remarks at Monday night's football awards, head coach Von Lassiter said the players were expected to win.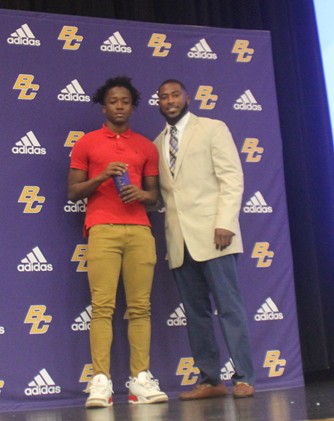 Farrow with Shon Jenkins.



But he said it was about more than that. It was about what kind of person they'd be not just 10 years from now, but how they'd be remembered 100 years from now. Lassiter, a devout Christian, added their eternal recognition was also important.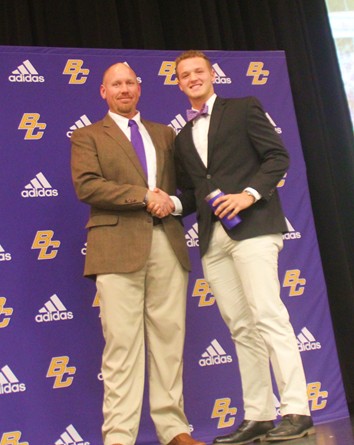 Zach Lassiter and Coach Brad Davis.



Besides the usual certificates handed out (as well as T-Shirts) several awards were given in honor or memory of people in the community. Winners were as follows.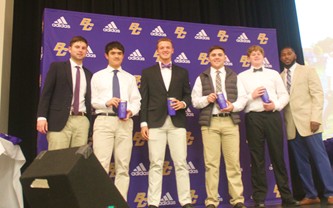 Coaches Garrett Collins and Derrick Farrow with Scholar Athletes L-R: Hugh Cairney, Zach Lassiter, Dominic Sasser, Dawson Sanders.



JV: Best Offense- Jamir Marshall. Best Defense- Shon Jenkins. Tom Porter Fellowship of Christian Athletes Award- Zach Lassiter. Jimmy Kilpatrick Offensive Leadership Award- Mekhi Farrow.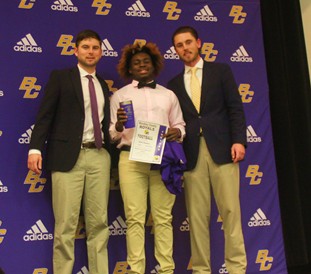 Willie Chambers with Garrett and Brantley Collins.



Sam Barrs Defensive Leadership Award- Arkenzio Hayes. Scholar Athlete Awards- Dawson Sanders, Dominic Sasser, High Cairney, Zach Lassiter. Outstanding Special Teams Player- Andrew Thompson. Impact Freshman- Quintavis Slappy. Outstanding Offensive Lineman- Will Collins. Outstanding Defensive Lineman- Willie Harris.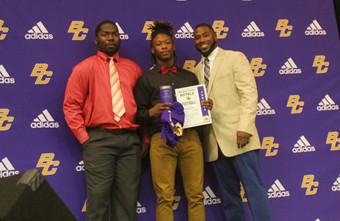 Kelton Elvine, Arkenzio Hayes, and Derrick Farrow.



Outstanding Linebacker- Willie Chambers. Hayes was named Outstanding Defensive Back. Outstanding Wide Receiver- Bryce Bailey. Outstanding Offensive Back- Nykeem Farrow. Ben Dykes Offensive Hustle Award- Marcus Brown.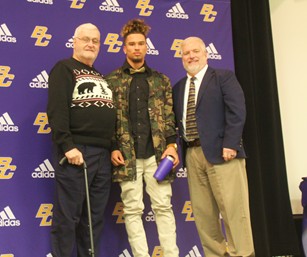 Ben Dykes, Marcus Brown, Coach Randy Thompson.



Don Turknett Defensive Hustle Award- Mika Floyd. Nykeem Farrow and Willie Harris won the offensive and defensive MVP awards.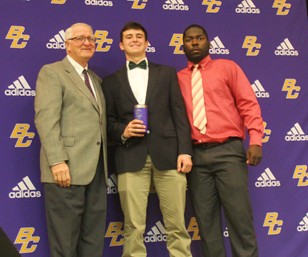 Don Turknett, Mica Floyd, Kelton Elvine.



Captain's Award as selected by teammates went to Floyd, Collins, Lassiter, Mekhi Farrow and Nykeem Farrow.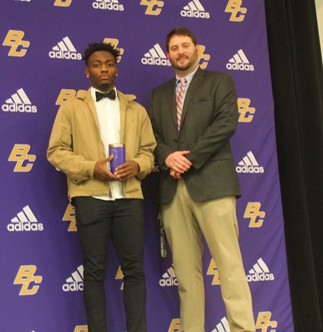 Coach Sean Patrick and Nykeem Farrow.



In his closing remarks, Lassiter encouraged returning players to stand out not only on the field, but in all areas of life. He said the coaching staff was committed to working as hard as possible to making the players not only better as football players, but better men. Lassiter encouraged parents to be involved with the Touchdown Club.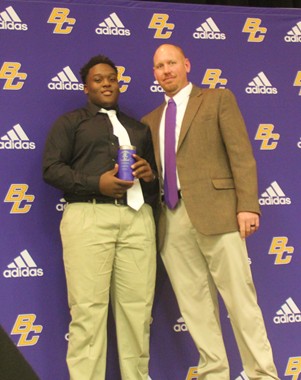 Willie Harris and Coach Brad Davis.



Congratulations to all the award winners.



© Copyright by BleckleyProgess.com

Top of Page