---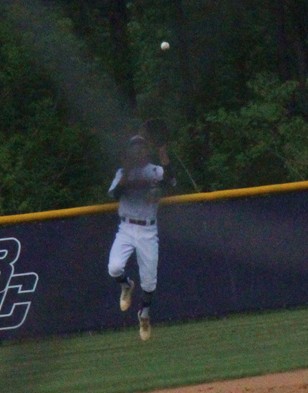 Lane Kitchens gets under a ball in centerfield.



BCHS had a chance to clinch their second region title in the past three seasons with a win Friday night against Washington County. Though unsuccessful, they would later on thanks to an unlikely assist from Dodge County.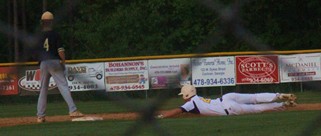 Brody Little slides in safely with a double.



Up 1-0 on Brody Little's first inning sac fly, BC loaded the bases in both the fourth and fifth with two outs but couldn't score. A three-run top of the sixth was aided by two throwing errors. The Royals had runners on with one out in both the bottom of the sixth and seventh, neither scored in losing 3-1. Nine runners were stranded.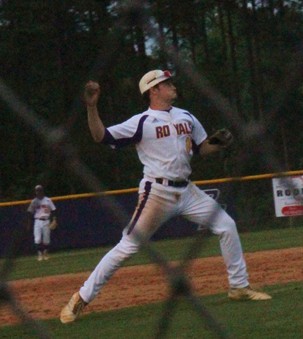 Jack Fernandez sets to throw from third base.



Carson Waters was 3 for 4. Ethan Hulsey went 1 for 2. Though denied a chance to clinch, they did so later on when Dodge County swept Southwest. It secured third place for Dodge, who had already swept East Laurens. Even if Waco sweeps the Falcons next week, one of the tiebreakers would be common records against the third place region team.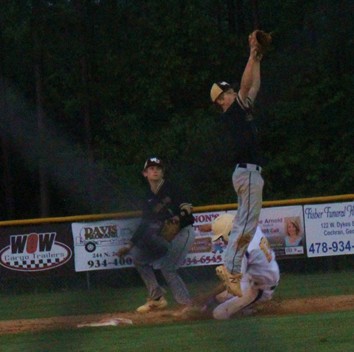 A Golden Hawks player has to leap as Carson Waters slides into second base.



BC swept Dodge County, the Indians and Golden Hawks split. Plus, the Royals won against Washington County 9-6, lost 3-1, meaning run differential was in their favor. Thus, Bleckley wins the 3-AA title with a 10-2 region record. They travel to Paulk Park in Fitzgerald to take on the Hurricanes April 15. JV play at 4 pm with varsity to follow.



© Copyright by BleckleyProgess.com

Top of Page