---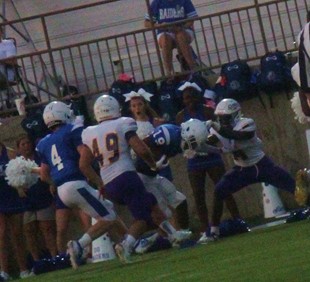 Jakob Hill and Lamont Webb stop a Raider player.



For fans of Royals football, this was the second best night of the year. Because the annual scrimmage against West Laurens meant the regular season was just one week away. Excitement was high after a game effort against Perry in May. Like that scrimmage, Bleckley's defense again gave up big plays.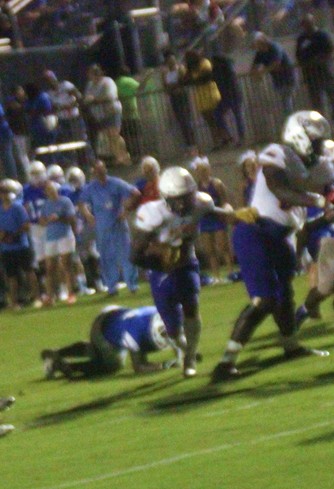 Ty Williams runs through a hole in the line.



Score was kept. There were no kickoff or punt returns. The Raiders scored on a 31-yard pass with 5:47 left in the first. A 68-yard catch and run with 2:28 left made it 14-0.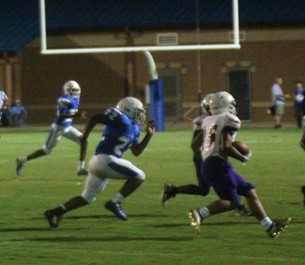 Patrick Taylor cuts upfield.



West Laurens scored again with 11:53 left in the second, the short run was set up by a long run to the Royal eight. BC's offense finally put together a drive, converting on fourth down three times, one of those times via a pass interference penalty. The drive stalled on fourth and goal from the four with 3:02 left in the half.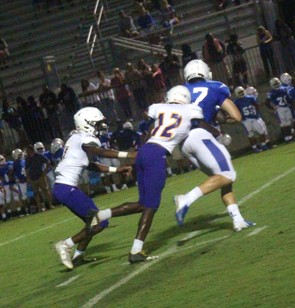 Dytown Ates tries to wrap up a player from behind.



A late interception put the Raiders on BC's 31. Though kept out of the end zone, they added to the lead with a 32-yard field goal as time expired. The shutout was broken in the third when Dominic Sasser hit Marcus Brown on an 80-yard score with 9:09 left. Late in the quarter, David Dent forced a Raiders fumble.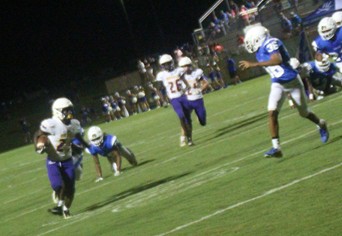 Jahvon Butler was one of the ninth graders who saw time at running back during the fourth quarter.



That would conclude varsity highlights as JV played the fourth quarter. Bleckley opens the 2019 season August 23 at home against Hawkinsville. Kickoff is 7:30 pm.



© Copyright by BleckleyProgess.com

Top of Page