---


BCHS last won a region cheerleading title in 2014. Over the past five years, the squad could point to things that would deny them first place (IE: dropped stunts) during their routine.



But in the eyes of those wearing BC purple and gold, that changed at Saturday's Middle South Georgia Region Cheerleading Championships at Vidalia High School. The Royals were the final 3-AA squad to perform. Fans chanted "Lets Go Royals" as the squad prepared to enter.



Moments later, it was time to begin. Despite many having a late night due to football, the squad had plenty of energy. Motions were sharp. The one error, a stunt group came down early. Otherwise, it was a clean, sharp, performance.



Or so people thought. A hushed silence came through the gym when Bleckley was announced as second place. Looking at the score sheets, there were six points of deductions. One for knees down on tumbling, something few if anyone saw.



The other two were for inattentive spotting and weight bearing on the pyramid. Inattentive spotting means a base didn't have their eyes on the flyer they were spotting. Neither had been called all year. Despite being the only squad with more than one full in their running tumbling, and three stunt groups that stayed up pulling multiple positions after the one coming down, BC missed first place by half a point.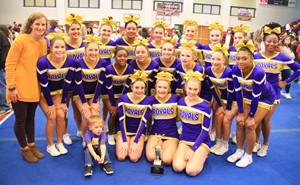 The squad with coach Heather Davis and Cooper Davis.



Though heartbroken over the results, BC will again try to earn a spot in the finals at sectionals competition November 15 in Columbus. It starts at 9 am.



© Copyright by BleckleyProgess.com

Top of Page