| | |
| --- | --- |
| | Jul 22nd, 2020 - 15:30:27 |
---
With the start of school less than a month away, there was plenty to discuss at Tuesday night's monthly Board of Education meeting. One of the major items was the coronavirus pandemic, specifically the risk to students.

During discussion, Superintendent Dr. Steve Smith presented numbers from the Georgia Department of Health's COVID-19 website stating the hospitalization rate for children ages 5-17 was 1.3 percent in comparison to positive cases. It was noted the one child age 5-17 who died of COVID had an underlying health condition.

While members overall acknowledged medical experts who stated the risk to children ages 5-17 regarding coronavirus was low, chair Kim Wright brought up the concern of a child bringing home the disease and potentially transmitting it to family members who were at higher risk. Smith said that was one of the reasons why they were offering a distance/online learning option. According to a document on simbli, 146 students had requested remote learning as of July 20.

One of the questions asked by board member Diane Lester was did leadership have a plan in place should there be an outbreak. Smith said the leadership team had been working on one and it would be presented to members before being released.

There was also discussion of teacher concerns regarding returning to school, especially older teachers. Smith mentioned teachers would have the option to require masks in their classrooms. He said there would be enhanced sanitation procedures, mentioned water fountains had been changed to become places to fill up water bottles. Smith also said students would be receiving Chromebooks to use during the day to avoid the touching of keyboards.

Also regarding remote learning, there was discussion regarding the policy that students who enroll in distance learning are ineligible to participate in field trips/extracurricular activities unless the club sponsor offers remote memberships. Policy IFGBD- Distance Learning and Online Courses also states children in Kindergarten through Second grade must remain enrolled for a year, the commitment is yearlong for grades 3-12.

After discussion, it was agreed to add an appeals process for children who wish to re-enroll in school because of unforeseen circumstances (IE: inability to continue distance learning due to family difficulties.)

With the state budget passed and schools only receiving an 8.8 percent cut in funding as opposed to the original projected 14 percent, Smith recommended passing an amended budget and updated school calendar. The amended FY21 budget reflects increased state revenues of $996,212 and expenditures of $979,381 compared to the original FY21 budget passed June 9.

The updated calendar returns all previous workdays removed. Smith noted teachers were being required to have two weeks of online learning plans in place should they or the class face quarantine because of COVID-19. Board member Mike Sasser said that by adopting the amended calendar, they as a board would be affirming the administration's decision to hold in-person classes with the first day of school remaining August 10. Both items were voted on together and passed unanimously.

In the facilities report, the modular units for Pre-K teachers have been installed. A Certificate of Occupancy hadn't been issued because of a new requirement that started January 1 of this year that new buildings must have a sprinkler system installed.

A waiver from the rule has been requested since Bleckley Primary doesn't have a sprinkler system and installing one for two years for modular units would be costly. Smith said they'd heard from other districts who'd received waivers. Once they did, they would obtain a certificate of occupancy.

On the new primary school, asbestos has been completed and demolition work will begin Thursday. Repairs to the BCMS car rider line, added to the project last month, should be completed by the end of the week. The new bus shop roof should also be completed this week.

The Phase 2 construction timeline was pushed back two weeks to ensure construction bonds sold by the state wouldn't affect cash flow on the project. A town hall meeting/pre-bid conference (via Zoom) will be held by cm firm JCI Contractors August 5. Smith recommended holding a called meeting so members could attend as well as deal with any last-minute business before school started. Members agreed.

Three items were approved as part of contracts and grants. The board renewed its yearly contract with the Bleckley County Sheriff's Office for School Resource Officers. As was the case in FY20, the BCSO pays half the cost of two officers and the district pays the other half of those salaries as well as the fully salary of one officer.

The contract with ACS for cleaning and janitorial services at BCMS and BCHS for $16,142 a month, the same price as in previous years. The only addition for this year is provision to reduce payments should schools be closed due to executive orders by the governor or president.

Also approved was the Health Resources and Services Administration grant award of $186,086. One of the items the grant will provide for is salary for a mental health counselor.

During discussion of the handbook and Conde of Conduct changes for FY21, Wright mentioned again her concern regarding a new policy at BCMS stating students must leave backpacks in their lockers. While she understood the reasoning (clutter and the backpacks served as a distraction), she was worried about the transition time students would have (being close together at lockers) because of COVID. Wright had originally expressed the concern during COVID discussion.

Wright though didn't oppose the new policy. Pulled from the recommendation was passing of the athletic handbook so that a section on graduate assistants could be added. All other changes were approved.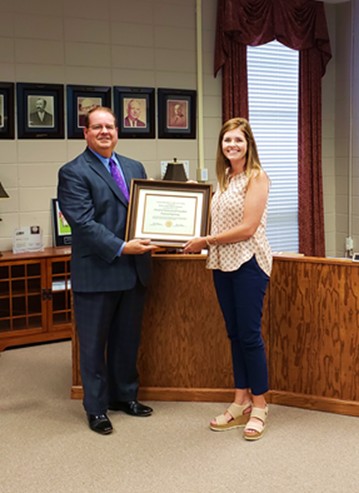 Smith presented a framed certificate to Finance Director Aly Rozier.



There were two special recognitions at the meeting. Finance Director Aly Rozier was recognized for her work in having the district qualify for the first time in history for the Award of Excellence in Financial Reporting from the Department of Audits and Accounts for the FY19 audit.

Also recognized was the BCHS administration, Matt Gibbs, Dr. Matt Godwin, and Dr. Brad Knox. U.S. News and World Reports had recently named Bleckley County High School one of the top high schools in the United States.

From the executive session: Former Dazzler Jade Allen was named Dazzler coach/coordinator. Success Academy assistant principal Christy Dean had her duties expanded to include District Remote Learning Liaison. Ashley Herndon was named middle school assistant tennis coach.



© Copyright by BleckleyProgess.com

Top of Page