---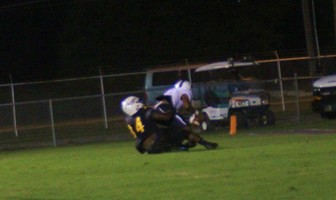 Willie Harris forced a safety on this tackle.



Back at home, BCHS sought to rebound after last week's frustrating loss at Wilcox County. They were able to unleash a lot of frustration on their opponent, South Atlanta.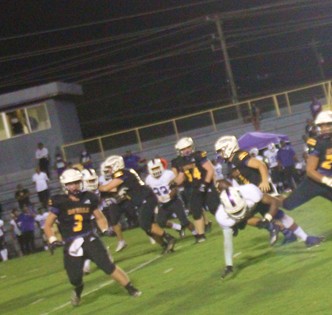 Dominic Sasser follows his blockers for a gain.



Trailing 6-0 early, Chuckie Stephens five-yard touchdown run with 5:57 left put the Royals on top. The Hornets fumbled on their next possession, it was recovered by Christian Newbern at their 29. The drive would stall at South Atlanta's eight.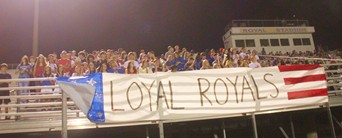 The Loyal Royals student section had a patriotic theme.



Bleckley's defense, and numerous penalties, would have South Atlanta backed up near their own endzone. With 3:05 left in the first, Willie Harris sacked the quarterback in the endzone, resulting in a safety.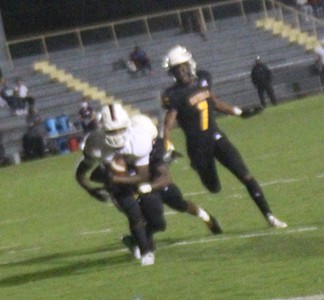 Dytwon Ates with a tackle.



The ensuing free kick was returned to South Atlanta's 25. With 11:42 left in the second, Jahvon Butler slid in from a yard out, increasing the lead to 16-6. Following a punt by the Hornets, Butler would score again, this time on a 26-yard burst. BC took a 23-6 lead to halftime.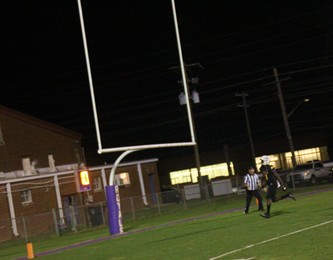 Jaden Mobly scores.



The Royals started their first drive of the third quarter from South Atlanta's 48. It was quickly capped when Dominic Sasser connected with Jaden Mobly on a 35-yard touchdown pass with 8:47 left.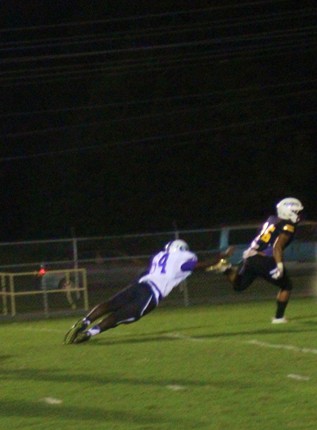 Chuckie Stephens pulls away to score.



Sasser had another long pass, a 64-yard completion, to Marquez Brown on BC's next possession. Butler's second touchdown run of the game, two yards, capped the drive. It was 37-7 with 4:36 left.


Two Royals combine on the tackle.



The final scoring drive came on BC's next possession. Chuckie Stephens converted a fourth and four from the Hornet 41. He capped the drive with a 13-yard touchdown run early in the fourth. The Royals rolled 44-6.

Sasser was 12 of 21 for 159 yards and a touchdown. Stephens had 111 yards on 15 carries with two scores. Butler rushed for 107 yards on 14 carries and three scores. Mobley caught five passes for 61 yards and one touchdown.

BCHS plays at Vidalia September 25. Kickoff is 7:30 pm.



© Copyright by BleckleyProgess.com

Top of Page