---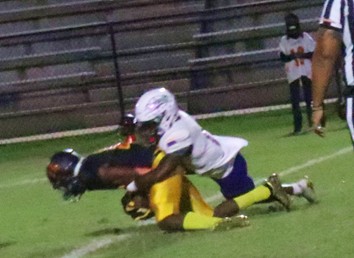 Shon Jenkins makes a tackle.



Though played on Thursday night, the Royals game against Northeast was something fans had seen before. Against Northeast on the road and in previous games against Southwest played at Henderson Stadium. Play poor in the first half, rally, only to be done in on a last-second score.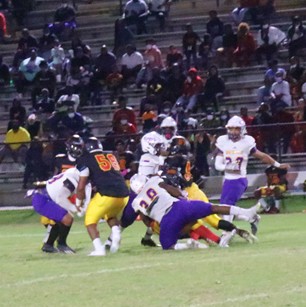 Demetreus Pope is one of the defenders in on the tackle.



Down 6-0 after one quarter, Dominic Sasserís 41-yard pass with 8:37 left in the half. It was a short-lived advantage. The Raiders started their next series from their own 48 but reached the BC 10 on the first play. With 5:20 left, Northeast retook the lead on a three-yard touchdown run. The point after was missed.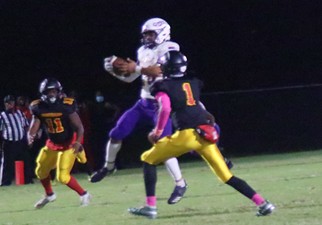 Christian Newbern intercepted a two-point conversion.



On their first play after kickoff, BC fumbled the ball at their 31. It took one play for the Raiders to capitalize, a 31-yard touchdown run increased the lead to 18-7. The two-point conversion was intercepted.


Dominic Sasser also rushed for 34 yards.



Northeast struck again before the half ended on a 35-yard touchdown pass. Though the conversion again failed, BC faced its largest halftime deficit this season, 24-7. It was the third quarter when the Royals tried to rally.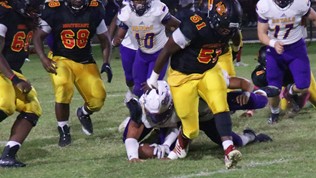 Zack Stanley recovered this fumble.



With 3:35 left in the third, Chuckie Stephens scored on an eight-yard run. But on the first play after the ensuing kickoff, the Raiders scored on a 72-yard pass. Another failed conversion, but it was 30-14.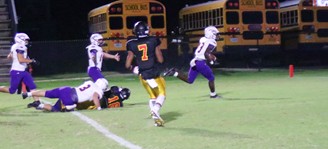 Darvin Yates scores.



BC fumbled the ensuing kickoff on their 39. But a bad snap by the Raiders on their first series after recovery led to a fumble recovered by Zack Stanley on the 49. Sasser connected with Darwin Yates on a 31-yard touchdown pass with 44 seconds left. A two-point conversion attempt failed but it was 30-21.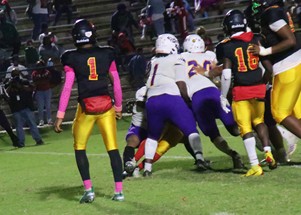 Several Royals are in on the play.



Stephens 19-yard run with 6:53 left in the fourth drew the Royals within 30-27. He leaped over defenders, just breaking the plane, with 2:37 left. The Royals led 34-30. But the kickoff went out of bounds, giving the Raiders 2:25 to work with from their 35.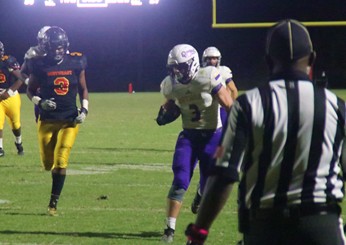 This reception by Eli Mullis on fourth down kept the Royals last scoring drive going.



They scored on a 13-yard touchdown pass with 19 seconds left. Bleckley ran out of time, losing 37-34. The defense surrendered 473 yards, 351 through the air. Offensively, Sasser was 12 of 22 for 182 yards and two scores. Stephens ran for 70 yards on 12 carries.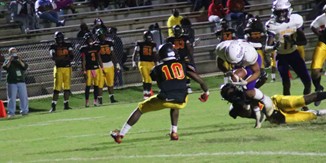 Chuckie Stephens leaps over a defender.



Willie Harris had seven solo tackles, Stanley had six. Scooter Slappy and Caden Maxwell had four each. It will be senior night when the Royals host Washington County November 6. The ceremony starts at 7 pm, kickoff at 7:30.



© Copyright by BleckleyProgess.com

Top of Page