---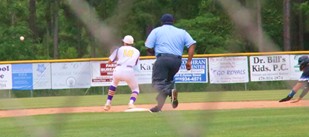 Caleb Senters would get the ball before the runner reached second base.



It was the best of games, it was the worst of games. That paraphrasing from "A Tale of Two Cities" describes Monday's quarterfinal contests between the Royals and Bremen. After BCHS took advantage of Blue Devil errors in game one run rule affair, the Blue Devils returned the favor in game two.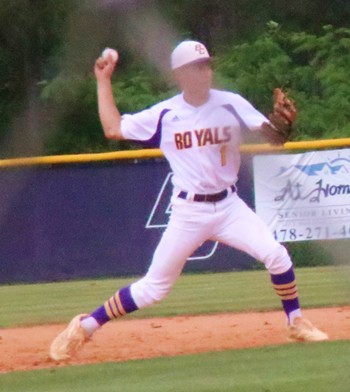 Matthew Bland sets to throw from short.



Leading 5-0 after one inning in game one, BC got two the third and three more in the fourth. Bremen got their third and fourth hits of the game in the fifth to score their only run. A wild pitch in the home half sent home the game clinching run in an 11-1 victory.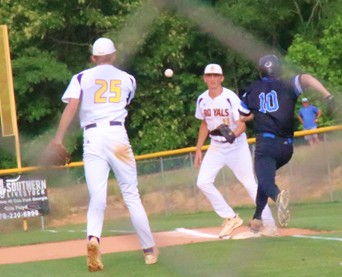 Connor Senters tosses to Carter Brannon at first base.



Bremen committed seven errors. Ethan Hulsey was 2 for 2 with 1 RBI. Matt Huff was 2 for 3 with 2 RBI. Eli Mullis went 2 for 4 with a double and 1 RBI. Caleb Senters went 1 for 2 with a two-run triple,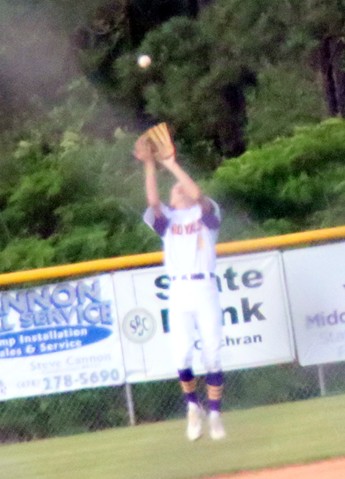 Ethan Savant gets under a ball in centerfield.



Game two saw the Blue Devils score nine runs on six hits and three errors in the first. JR Fordham provided the only highlight, a three-run home run in the third. Bremen got it back on a solo shot in the home half. Three in the fourth and four in the fifth capped a 14-4 loss.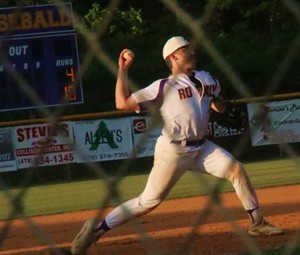 Eli Mullis sets to throw from third base.



BCHS finished with five hits, four errors. Fordham was 1 for 2. Matthew Bland went 2 for 2. Game three is tomorrow at 4 pm.



© Copyright by BleckleyProgess.com

Top of Page