---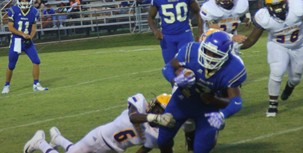 Robert Beck and Justin Rozier team up on this tackle.



BCHS made their first trip to Rochelle in football since 2011 Friday night to take on Wilcox County. According to the Georgia High School Football Historians site, the Royals were 0-3 all time against the Patriots.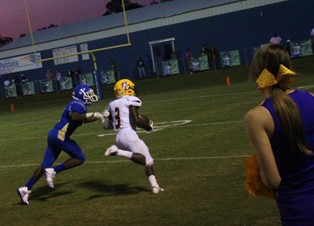 Nykeem Farrow just missed a touchdown on this run.



Starting their third possession on the Wilcox 40 after a short punt, Zach Lassiter connected with Bryce Bailey on a touchdown pass. With 3:37 left, it was 7-0 Royals. In the second, the Patriots got to the BC 33 but were stopped on fourth and three.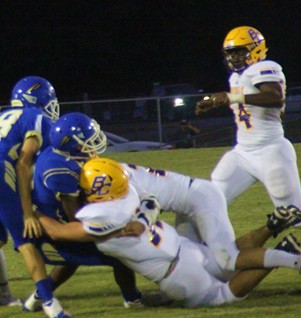 Mika Floyd is in on the tackle.



On their next possession, Nykeem Farrow broke a 55-yard run to the Patriot 10. Arkenzio Hayes scored from three yards out with 6:45 left. BC led 14-0. Wilcox went for it on their next drive converting a fourth and two from their own 31. A pass interference as well as unsportsmanlike conduct penalty moved the ball into Royal territory.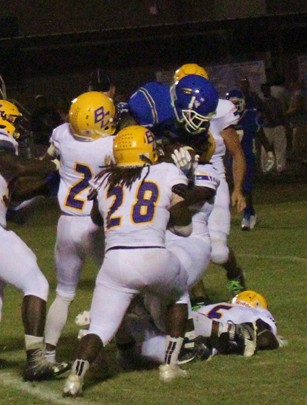 Corez Walters helps on a stop.



The defense though would again turn them away, stopping a fourth and ten from the BC 21. Wilcox's final drive of the half started at Bleckley's 47 and would go to the 25 thanks to another pass interference penalty. A Tytrez Rozier sack ended the threat.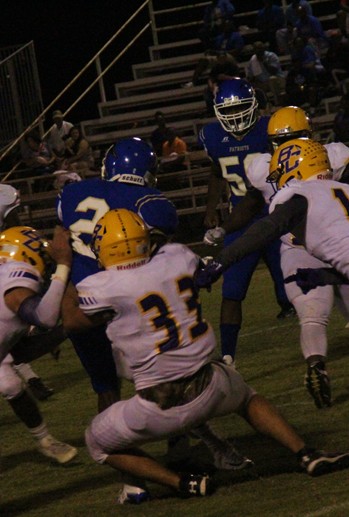 Alan Rogers had 4.5 total tackles.



Starting their first possession of the second half at the Patriot 40 after a face mask, Lassiter would cap the drive with his second touchdown pass, a 20-yard catch and run to Jack Fernandez. With 4:42 left, Bleckley led 21-0. On the Patriots next drive, a third and nine from their own 49 was converted via a pass to the Royal 15.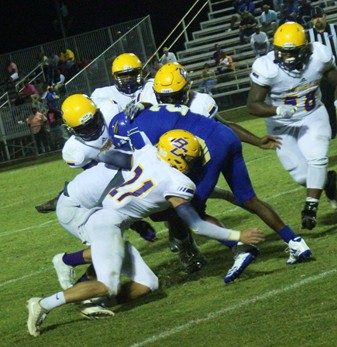 Andrew Butler is one of several players in on the stop.



This time, Wilcox scored on a short touchdown run with 2:09 left. The point after missed. In the fourth, Bailey completed his first pass of the season, a 14-yard toss to Torenio Davis on fourth and five from the Wilcox 15. Farrow scored on the next play, the lead grew to 28-6.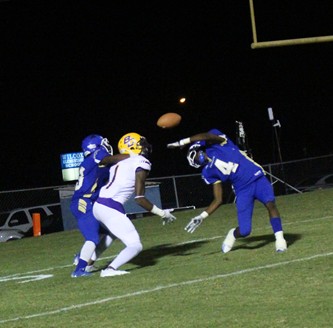 Torenio Davis made the catch despite the double team.



The BC offense got good starting field position again, their next drive began at the Wilcox 40. Converting a fourth and three from the 11, Farrow got his second short touchdown run with 6:31 left. Wilcox would mount a late drive to the Royal nine, Hayes picked off a pass and returned it to the 45. It sealed Bleckley's 35-6 win, the first in football against Wilcox.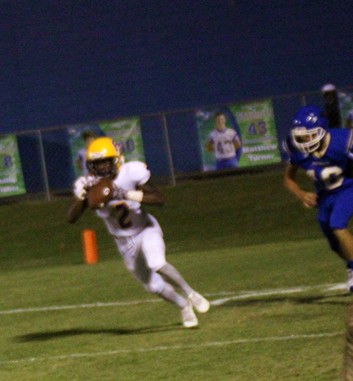 Arkensio Hayes returns an interception late in the game.



Farrow rushed for 126 yards on 18 carries. Bailey had 125 all-purpose yards, 70 recieving, 55 rushing. On defense, Robert Beck had 6.5 total tackles, four solo. Landon Grizzard had six solo tackles. Rozier had six total tackles, four solo. Andrew Butler and Demarcus Smith both had 5.5 total tackles, Buther recorded five solo, Smith three.

Bleckley will be off next week and return to action September 22 for Homecming against Northeast. Kikckoff is 7:30 pm.




© Copyright by BleckleyProgess.com

Top of Page