---


BCHS took their longest trip of the regular season, heading to Johns Creek for the Battle at the Colosseum. Like last week, it wasn't so much about the competition as it was an opportunity to be seen by a different panel of judges.



Wanting to win region as well as build on last year's sixth place finish at state, being scored by different judges allows coaches to get different perspectives on what's good, and what needs to be improved upon. Another advantage is to gain insight from judges who may be scoring them in Columbus.



A chant of "Bleckley County" broke out from some of the supporters who'd made the long journey. Several lined up along the balcony to ensure a clear view of the squad. What they saw was another solid overall performance.



Good jumps, everything stuck, the opening partner stunts looked good. The pyramid stuck and looked good. While all the flyers stayed up and pulled their stunts, there were some issues with timing and transition to the next part of the routine.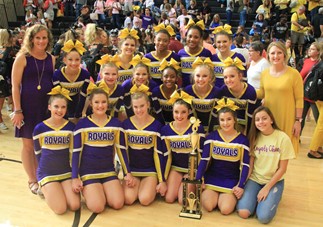 (Not pictured: Caitlin Tilson) The squad with coaches Heather Davis and Kayla Warren.



Still, a good day, easily enough to win first place. Which Bleckley did. The score sheets though proved to as valuable as desired. BCHS was scored toughly by the judges. Those scores, along with what coaches saw, will be used in continuing to improve. The Royals return to the mat October 27 in Swainsboro.



© Copyright by BleckleyProgess.com

Top of Page