---
BCHS was a big underdog going into Friday night's game at Dublin. Predictions had the Irish winning by 23 to 30 points. Early in the fourth, it looked as if those predictions would come true. The Royals though would battle back, and might could've pulled off the win were it not for several special teams mistakes.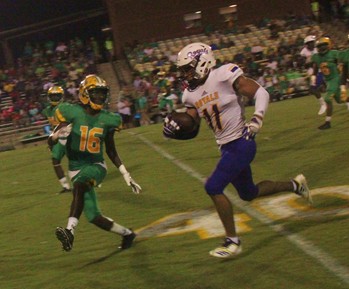 Marcus Brown runs during his 56-yard reception.



Dublin scored on their first two possessions to go up 14-0. They appeared to be driving for a third score following a run from their own five to the Royal 36. But the Royal defense forced a fumble, their second of the game, on the 12.



The Royal Kingsmen Band will traveling to Pierce County High School for competition later this month.



A 56-yard reception by Marcus Brown set BC up. Arkenizo Hayes would cap the drive, on a two-yard touchdown run with 5:26 left in the half. The point after was blocked. Dublin returned the ensuing kickoff to midfield. With a little over four minutes remaining, Dublin scored again to go up 21-6.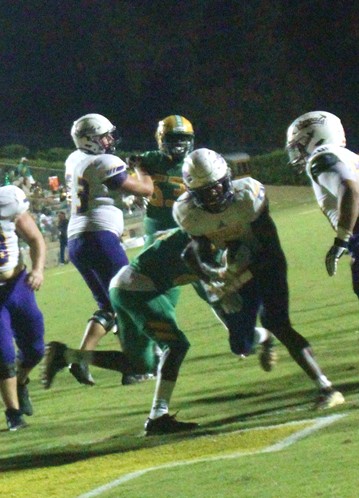 Arkenzio Hayes pushes past a Dublin player to score.



BC would again answer, this time on a Dominic Sasser to Bryce Bailey touchdown pass with 32 seconds left. A two-point conversion failed, but the Royals trailed 21-12 at halftime. However, Dublin got the ball to start the second half. They returned the opening kickoff to the Royal 23.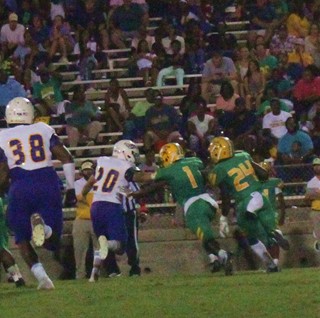 John Newbern forces a player out.



With 10:23 left, the Irish scored from two yards out, pushing their lead to 28-12. The game appeared to be getting out of hand following another Irish touchdown run with 5:44 left. But once again, BC wouldn't give up. From their own 35, they moved down the field, capping the drive with Hayes' second touchdown run with 1:32 left.

The point after was again blocked. Dublin returned the ensuing kickoff to Bleckley's 37. They scored eight seconds into the fourth. Though the PAT was missed, it was 41-18 Irish. Bleckley continued to battle. A 58-yard touchdown run and Sasser to Jhamir Marshall two-point conversion had the Royals within 41-26 with over 11 minutes left in the game.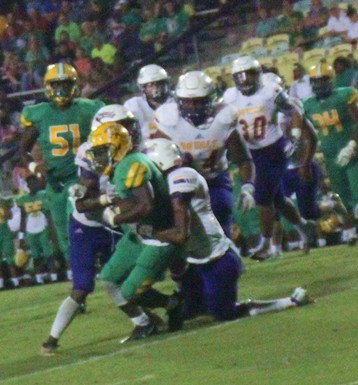 A pair of Royals are in on the tackle.



Dublin was forced to punt. With over nine minutes left, the Royals started from their own 17. Another Sasser to Bailey touchdown on fourth and goal from the seven with 5:09 left cut the deficit to 41-32. The point after was missed.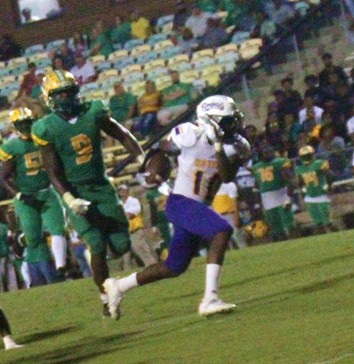 This reception by Jhamir Marshall help set up Bleckley's last touchdown.



An onside kick attempt was unsuccessful as BCHS lost 41-32. Sasser went 17 of 27 for 216 yards and two touchdowns. Bailey had 99 yards on 11 carries and caught three passes for 27 yards. Hayes had 111 yards on 16 carries as well as four solo tackles on defense.

Brown caught six passes for 110 yards. Marshall had a career best 55 yards on four catches. Defensively, Ty Williams had six solo tackles, Willie Harris.

It will be cancer awareness night when the Royals host Washington County. Survivors of cancer and anyone whose life has been impacted by the disease are invited to line up on the field at 7:15 pm for the release of balloons. Kickoff is at 7:30.



© Copyright by BleckleyProgess.com

Top of Page