---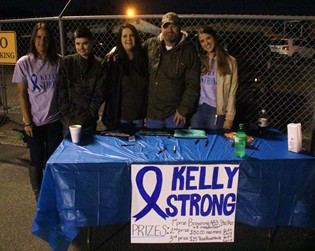 The family of Kelly Wilson is selling raffle tickets to help with medical expenses related to his recent cancer diagnosis. Prizes include a Browning Rifle, Walmart gift card, and Texas Roadhouse gift card. Call Elaine Mullis, (478)952-6780 to purchase.



The stakes couldn't have been much higher for BCHS in Friday night's regular season home finale versus Dodge County. There was a five-game losing streak against the Indians, including a comeback win by Dodge on Senior Night two years ago. Plus, Bleckley could clinch a home playoff game by winning.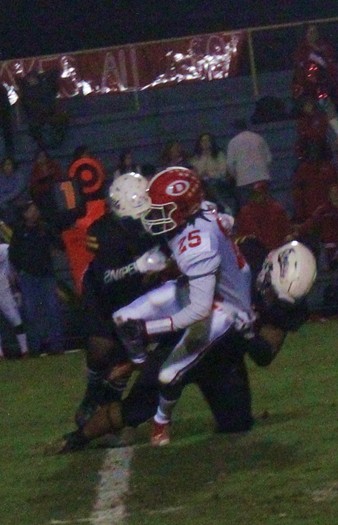 Willie Chambers and Willie Harris combine on a tackle.



Arkenzio Hayes' four-yard run in the first quarter put Bleckley on top, the point after was missed. In the second, it was fourth and one for Dodge near midfield. They converted on a run to the Royal ten. The Indians tied the game on an 11-yard touchdown run with 9:11 left. Their two-point conversion failed.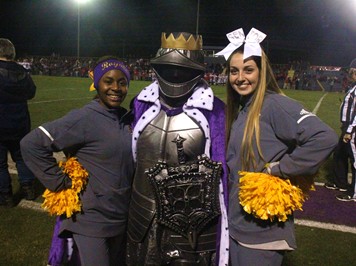 School mascot King Arthur was on hand to support the Royals.



BC would answer on their next possession when Bryce Bailey scored from four yards out. Though the point after was again missed, the Royals led 12-6. Bailey's 14-yard run with 1:05 left combined with a Hayes two-point conversion catch pushed the lead to 20-6. An Indian fumble on their next possession was recovered by John Newbern at the BC 42.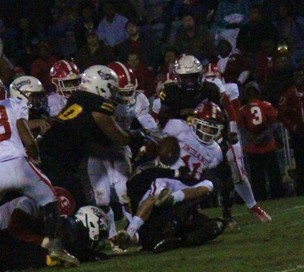 Several Royals help on the stop.



Dominic Sasser connected with Marcus Brown on a 19-yard touchdown pass in the final seconds. The point after was good and Bleckley led 27-6 at halftime. However, Dodge answered on their first drive of the third quarter, scoring on a six-yard touchdown run. With 6:21 left, it was 27-14.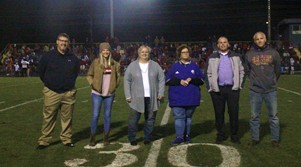 Teachers of the week were recognized during the game. Pictured L-R: Assistant Principal Brad Knox, Angela Jones, Jill Brack, Melissa Barker, Assistant Principal Matt Godwin, Principal Matt Gibbs.



Later in the quarter, Jakob Hill recovered the second Indian fumble on the DC 41. Sasser connected with Hayes on a 27-yard touchdown. Another missed point after but Bleckley led 27-14. Dodge though would again answer with a six-yard touchdown run in the final minute to get within 34-21.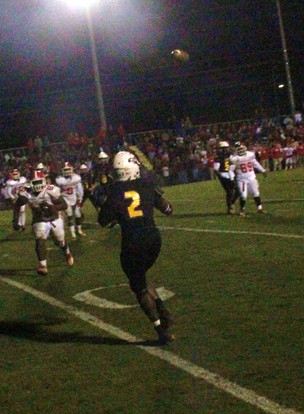 Arkenzio Hayes caught this two-point conversion.



BC was stopped on their ensuing possession. A bad snap on the punt gave Dodge the ball at the Bleckley two. They scored with 9:47 left. Despite the point after being missed, Dodge was within 34-27.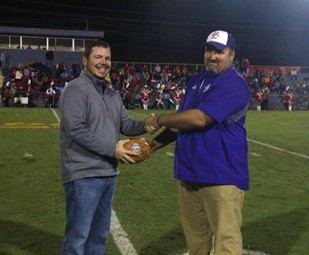 Citizens Bank of Cochran was Friday night's game sponsor. Pictured is Matt Fordham with Joe Ward.



Bailey though answered 19 seconds later, going 66 yards to the endzone. Still leading 41-27, Dodge stopped the Royals at the Indian 37 on fourth down. DC got a 57-yard touchdown pass with 1:06 left to get within 41-34. Bleckley though got the ball back and ran out the clock to win.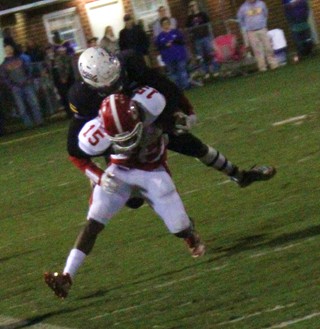 Bradley Taylor forces a Dodge player to the sideline.



Sasser was 13 of 21 for 174 yards. Hayes had a career receiving game, catching five passes for 78 yards. He also had 41 yards on 12 carries. Brown caught five passes for 63 yards. Bailey rushed for 142 yards on 17 attempts.

Willie Harris had 6.5 tackles, five solo. Willie Chambers had five tackles, four solo. BCHS closes out the regular season November 8 at Southwest. Kickoff is 7:30 pm at Henderson Stadium.



© Copyright by BleckleyProgess.com

Top of Page