---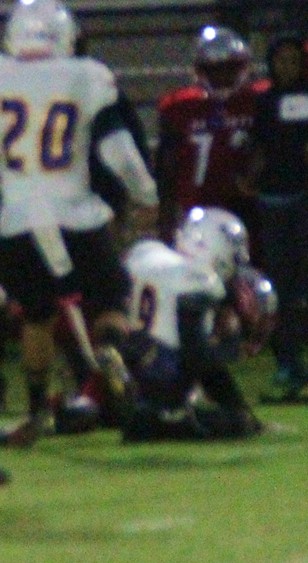 Lamont Webb makes a tackle.



Maybe it was the letdown after last week's win versus Dodge County. Maybe it was having three offensive linemen out with injuries including starting center Beau Williams. In any event, the Royals seemed out of sync Friday night against Southwest.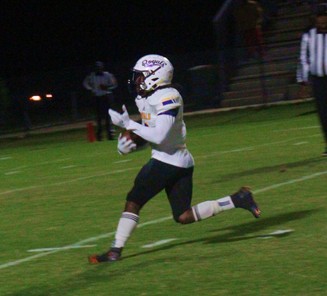 Arkenzio Hayes cuts upfield.



BC forced two turnovers in the first quarter, an interception and fumble, but couldn't convert either into points. Still scoreless in the second, a 50-yard punt return by Southwest broke the tie. A two-point conversion was successful, and the Patriots led 8-0 with 9:37 left in the half.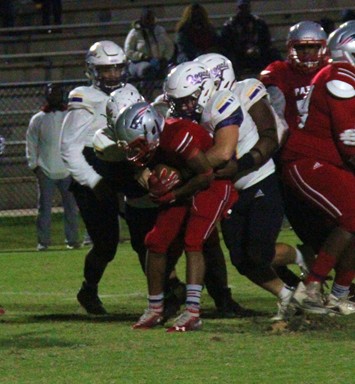 Several Royals combine on the stop.



The Royals finally got on the board on their ensuing drive when Treg Corner connected on a 29-yard field goal. After stopping Southwest, BC got the ball near midfield but fumbled. However, the Royal defense prevented any damage and Bleckley trailed 8-3 at halftime.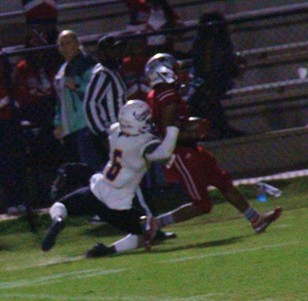 Shon Jenkins with a stop.



Southwest got the ball to the begin the third. Backed up at their 12, an 83-yard run to BC's 15 set up their next score. It came in the form of a 14-yard touchdown pass. With another two-point conversion, the Royals trailed 16-3.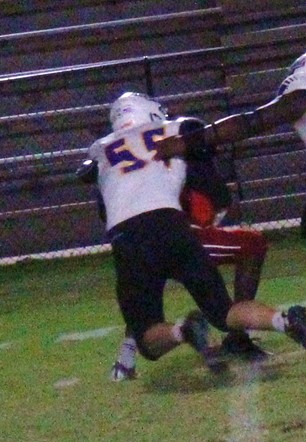 Shane Bryant had a big night on defense.



A bad snap on the ensuing punt put Southwest on the Royal 34. The defense again held. Early in the fourth, a Royal drive ended on fourth and 11 from the Patriot 19 with an interception. Defense and penalties forced the Patriots to punt from their endzone.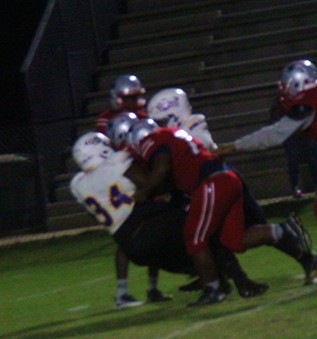 Willie Harris had two assists along with six tackles.



It was blocked out of the endzone, resulting in a safety for BC plus free kick by Southwest. The Royals capitalized, getting an 11-yard touchdown run by Bryce Bailey with 8:21 left. Though the two-point conversion failed, it was 16-11.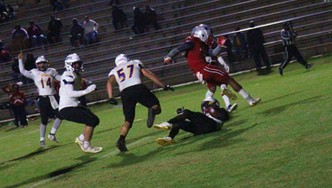 Dominic Sasser reacts after Bryce Bailey scored in the fourth quarter.



With under two minutes left in the game, Bleckley stopped Southwest on fourth and one from their own 25. However, on fourth and 1 from the Patriot 11, another fumble with 16 seconds left ended any comeback hopes as Bleckley lost 16-11.

Bailey ran for 100 yards on 17 carries. Arkenzio Hayes had 59 yards on seven attempts. Marcus Brown caught nine passes for 115 yards. Defensively, Willie Harris had six tackles, five solo, three tackles for loss. Shane Bryant had five tackles, five solo, two for loss.

BCHS will host Fitzgerald in round one of the state playoffs November 15. Kickoff is 7:30 pm.



© Copyright by BleckleyProgess.com

Top of Page