---
In looking at last night's lost at Wilcox County, many things could be pointed to. Player mistakes, missed calls, getting field goals instead of touchdowns. But in the end, it comes down to giving up too many big plays on defense.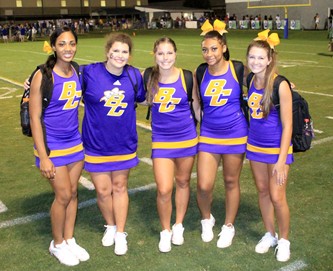 Pictured L-R: are Jayda James, Caroline Pittman, Abbi Belflower, Shy Chambers, and Abigail Kirkland. The five made the Georgia Cheerleading Coaches Association top 30 for Cheerleader of the Year. Each girl will have to submit a routine video featuring a cheer, jumps, stunt, tumbling, and dance by September 19. They'll have individual interviews via Zoom September 20.



The Patriots struck on their first possession with a 29-yard touchdown pass but missed the point after. Jaden Mobly scored from five yards on fourth down out with 2:39 left. A successful PAT made it 7-6.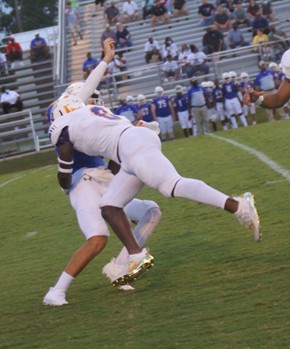 Nehemiah Mack delivers a hit to the quarterback.



In the second, a long reception by Chuckie Stephens put BC's offense on the Patriot 15. The drive stalled but Deacon Duffy connected on a 32-yard field goal to make it 10-7. Later on, Wilcox recovered a fumble on the Royal 25.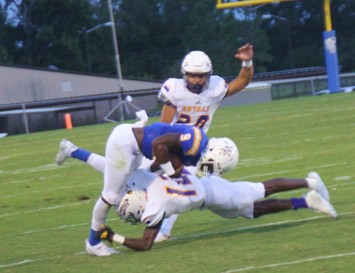 Darwin Yates trips up a Patriot player.



Though backed up to the BC 32, Wilcox hit a touchdown pass with about five minutes left. The kick was good, and Wilcox led 13-10. Wilcox recovered another fumble on the Royal 27 late in the half. Though they would reach BC's 17, the score remained 13-10 at halftime.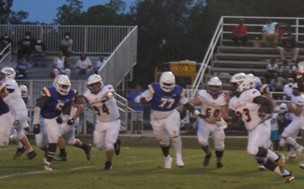 Jahavon Butler cuts upfield.



In the third, BC got their first turnover of the game when Luke Duffy recovered a fumble on the Patriot 32. Stephens two-yard touchdown run put the Royals back on top with 10:24 left.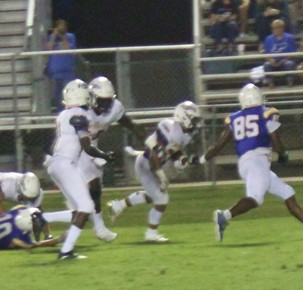 This 52-yard catch and run by Chuckie Stephens helped set up a field goal.



On the Royals next possession, a Dominic Sasser to Eli Mullis completion put the Royal offense on Wilcox's 19. The drive stalled at the 5. James Fordham kicked a 22 yard field goal to make it 20-13.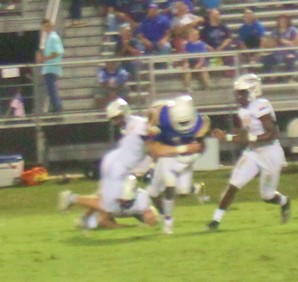 Luke Duffy delivers a hit.



Late in the fourth, the Patriots converted a fourth and 15 from their own 18 to the BC 35. Then on fourth and 16 from the BC 41 with under 30 seconds left, Wilcox connected on a 41-yard touchdown pass. The Patriots went ahead 21-20 on the two-point conversion with 25 seconds remaining.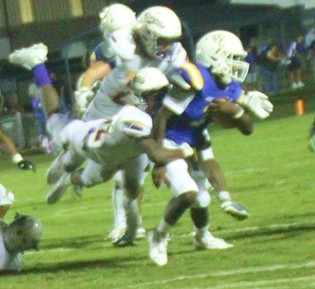 Several Royals are in on the tackle.



BC got the ball back but had no time outs to make a last-second push in losing 21-20. Dominic Sasser was 6 of 13 for 133 yards.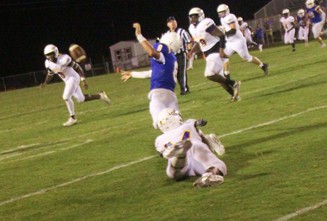 Willie Harris forces a quarterback mistake.



Stephens ran for 74 yards on 22 carries. Jahvon Butler ran for 53 yards on 18 carries. BCHS hosts South Atlanta September 18 at 7:30 pm.



© Copyright by BleckleyProgess.com

Top of Page