---
SSGT Stephen "Mark" Smith was a member of the U.S. Marines. On his third tour of duty on a patrol as a member of the 1st Battalion 6th Marines in Ramadi, Iraq on October 14, 2006, Smith stepped on a land mine.

As a result, his left leg was amputated below the knee. The blast also causes constant back pain and resulted in a traumatic brain injury. Though medically retired, Smith enjoys spending time with wife Tabitha and his three daughters, Margaret and twins Lilian and Evelyn..

He also continues a career of service as an officer in the Georgia State Patrol. He was the first amputee to graduate from State Patrol School. Smith though has struggled in his current home. Things such as narrow doorways which make it difficult to navigate a wheelchair and high shelves combined with his inability to stand for long periods of time means he has to lie on the couch after coming home, his wife handling most responsibilities.

Smith reached out to Homes For Our Troops, a nonprofit organization that, according their website, builds and donates specially adapted custom homes nationwide to severely injured post-9/11 Veterans, to enable them to rebuild their lives. Most of these Veterans have sustained life-altering injuries including multiple limb amputations, partial or full paralysis, and/or severe traumatic brain injury.

HFOT will be building a house for Smith and his family here in Bleckley County. According to a release, the home will feature more than 40 major special adaptations such as widened doorways for wheelchair access, a roll-in shower, and kitchen amenities that include pull-down shelving and lowered countertops. It will also alleviate the mobility and safety issues associated with a traditional home, including navigating a wheelchair through narrow hallways or over thresholds, or reaching for cabinets that are too high.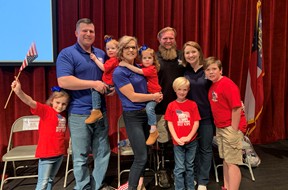 (Courtesy news release.) SSGT Smith and family with Marine Cpl. Tony Mullis and family. Mullis is a HFOT recipient and served as speaker for Saturday's event.



A kickoff event was held for Smith and his family Saturday at Middle Georgia State University. It marked the beginning of the home building process and was an opportunity to introduce the family to the community.

Smith is from Macon and wanted to move to Cochran to be close to family. To learn more about him, visit https://www.hfotusa.org/building-homes/veterans/ssmith/



© Copyright by BleckleyProgess.com

Top of Page