---


While getting first place is always nice, the goal of regular season competitions is always to improve. At the Middle Georgia Cheer Classic Saturday, BCHS was able to do both.



As was the case last week, there was a good crowd on hand to support the squad. What they saw was a much improved performance. Mainly, everything stayed up.



Partner stunts stayed up. Stunt groups stayed up. The pyramid hit. Any nerves the girls may've been experiencing weren't shown at all. Fans gave the squad a loud ovation after the routine.



Results confirmed what everyone knew. Bleckley had won first place. Even more importantly, their improved effort got them a major improvement in score from last week.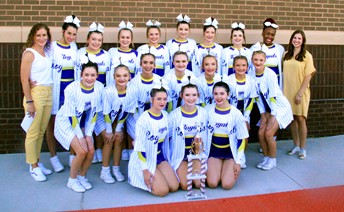 The squad with coaches Heather Davis and Allie Smith.



The Royals return to action October 8 at Ola Quest for the Best.



© Copyright by BleckleyProgess.com

Top of Page