---


For the second straight year, BCMS opened their competition cheer season at the Bulldog Invitational hosted by Morgan County High School. Last year's MGMSAA champions had some familiar faces along with several first timers on the mat.



The squad is going with a Brittney Spears theme complete with a social media hashtag started by head coach Becky Smith #hitmebleckleyonemoretime. Despite the long trip, a vocal group of supporters made the trek up US 441 to cheer on BC.



As it was their first competition, there were a couple of mistakes. A stunt group came down early. The first part of the pyramid dropped. But BC had full squad back handsprings. Their first stunt had an advanced entry. Stunts went to the extended position (above the head) as opposed to half preps (chest level.)



Their pyramid had two front flips and two advanced entries. Having a higher degree of difficulty helped when results were announced for what was essentially a small school division (A/AA/AAA.) Second place: Morgan County. First place: Bleckley County.



A loud cheer came from all and there was excitement over what could be as the season progresses. BCMS will be in action September 17 at the Middle Georgia Cheer Classic hosted by Houston County High School. It starts at 9:45 am with the squad going on at 10:15.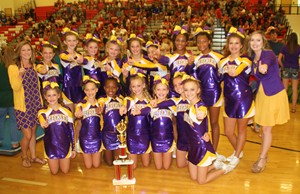 The squad with coaches Liz Brown and Becky Smith.
© Copyright by BleckleyProgess.com

Top of Page