---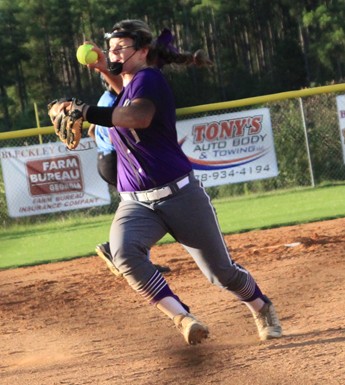 Riley Edge prepares to throw to third after catching a line drive.



When BCHS and Telfair County met last month, the teams combined for 21 runs. Monday afternoon, just six runs were scored, and the Lady Royals again prevailed despite missing numerous scoring opportunities.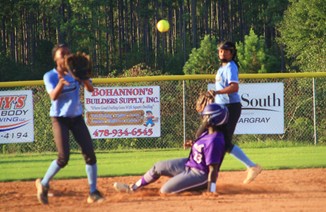 E'Lisia Vickers slides safely into second base.



Though scoring twice in the first inning, the second out was recorded at home plate, the third at third base. E'Lisia Vickers singled with two outs in the second, stole second, but was left stranded. A runner reached with one out in the third but didn't score. Bailey Odom's leadoff single in the fourth produced no runs. In the fifth, Abbey Sims gave BC some breathing room.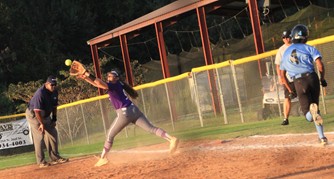 Caroline Thrower stretches to pull the ball in at first base.



She blasted a two-run home run over the left centerfield fence, scoring Caroline Thrower who'd singled with one out. Landa Dominy followed with a single, reached second when the ball was misplayed, but was left stranded. Telfair scored twice in the seventh after getting two on with no out but Bleckley held on 4-2.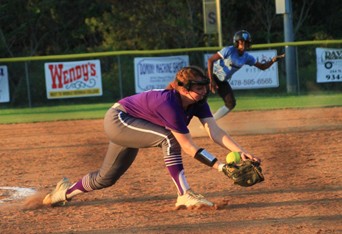 Bailey Odom made this catch.



Thrower, Sims, and Dominy all finished 1 for 2. Region 3-AA playoffs will be held Wednesday at Southern Pines. The second seeded Lady Royals take on East Laurens at 4 pm, while top seed Dodge faces Washington County. Both the championship and consolation games follow at 6:30.



© Copyright by BleckleyProgess.com

Top of Page