---


BCMS competition cheerleading had been on a historic run, winning three straight MGMSAA titles for the first time in school history. The squad faced challenges going into this season.



A new head coach in former assistant Liz Brown, new assistant in Emily Raley. They also lost seven members from last year's squad, four of whom are now cheering for BCHS.



Despite the changes, it's been a good season for the Barons. Three trophies at four competitions. Thursday night at East Laurens, BC tried to make it four in a row. Though unsuccessful, they put forth a great effort.



The large crowd of supporters started a "Let's Go Bleckley" chant as it grew time for the squad to enter. Upon arrival, the defending champions had their best performance of the season. Everything stuck. No bobbles, no deductions. High energy, smooth transitions. Brown would tell her girls later "you left it all on the mat."



When it was time for awards, excitement built. However, Bleckley's name was announced second. The best streak for cheerleading in school history ended. Fans were appreciative of the effort, shouts of "Good job BC" could be heard. The young squad did everything they could, their degree of difficulty ultimately proved to be the difference between first and second place.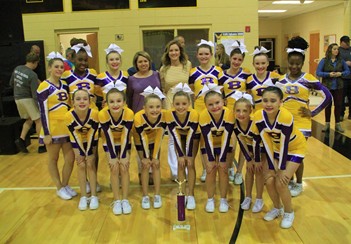 The squad with coaches Emily Raley and Liz Brown.



While tears were shed by some over not winning, the belief was, with improvements, they would be a contender for first place next year. Three region titles and a runner up in the past four years. That's a level of success worth cheering about.



© Copyright by BleckleyProgess.com

Top of Page