---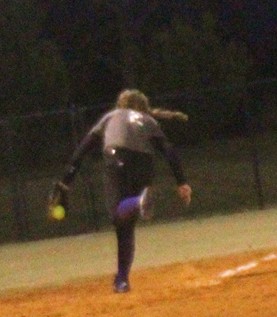 Katelyn Stone makes an off-balance catch.



As members of the B-Team, a new 14u travel softball team making their season debut Saturday at Southern Pines waited to hear from the coaching staff following their final game, USSSA tournament director Brian Hopkins stopped by to address them.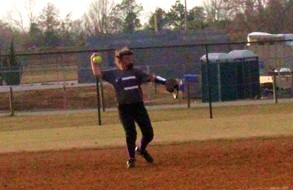 Jaylyn Dollar sets to throw from second base.



Hopkins said he talked to three of the players, and noted how, with smiles, they answered "yes" to his questions of if they had fun and did they get better. He praised the team for the effort they showed.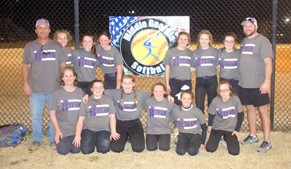 The team with coaches Shawn Haley, Nisi Haley, and Brandon Barrs.



The B-Team was founded by Shaun and Nisi Haley and is also coached by Brandon Barrs. Their primary purpose is to help younger players get better as well as be ready for the next level of school ball. Saturday's roster had some fill-in players, as well as several members of last year's 10u all stars who made the jump from machine pitch to 14u.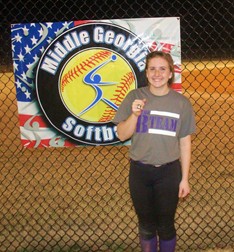 Mallory Sears, who's worked with some of the younger players and picked up with the team Saturday, was voted MVP by the umpires. She's pictured with the ring given to her for the honor.



No, they didn't win a game. But the young team competed. And as coaches pointed out, there were victories achieved during the day by players who made adjustments and improved. The team will be playing more tournaments going forward.



© Copyright by BleckleyProgess.com

Top of Page