---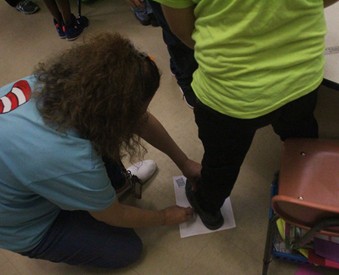 Getting an outline of your foot traced was from Seuss' "The Foot Book.:



While children are usually ready to be done with school once the day is done, spending time at Bleckley Primary and Bleckley Elementary probably wasn't so bad Thursday. Both schools held their annual literacy nights. And while the goal was to help with reading skills, each school came up with a way to make learning fun.



Bleckley Primary's literacy night was also their yearly celebration of Dr. Seuss' birthday. Many of the activities had a Dr. Seuss theme including reading a word correctly to "pin in the Cat in the Hat," and being able to put in order a rhyme from Seuss' book The Lorax. Of course, the Cat in the Hat and Thing 2 were also there to hand out cupcakes and interact with students.



Meanwhile, children at Bleckley Elementary had to put their thinking caps on because literacy night there was a mystery. Each hall had games where students would do things like look for context clues or figure out what the main idea was of a story they'd read after scanning a QR code. The fifth grade's mystery involved finding a naughty leprechaun who'd made quite the mess.



Games like finding the mystery word would grant them clues to help them figure where he was. All in all, while it was a night of learning, kids didn't complain because they got to have fun doing so.


To ensure they weren't the ones "who did it", children also got their fingerprints made.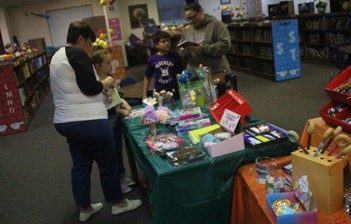 The Book Fair at both schools were open.
© Copyright by BleckleyProgess.com

Top of Page