---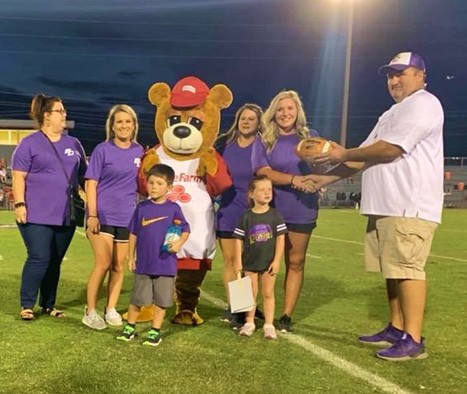 (Contributed photo.) Lindsey Dykes State Farm was Friday's game sponsor. Pictured along with Joe Ward is Dykes, Rachel Lupin, Quincy Nobles, and Hope Cavanah.



The air was hot and humid. Cars jammed the parking lot and areas around Royal Stadium. Football season began Friday night as the Royals looked to win their third straight against longtime rival Hawkinsville.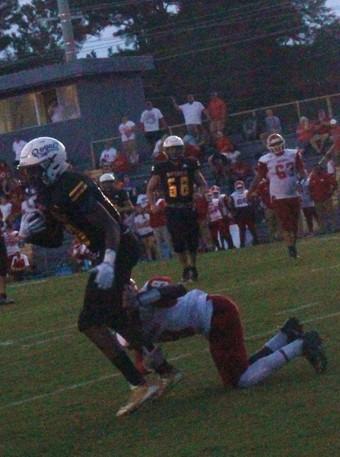 Jharmir Marshall caught a touchdown pass.



Less than a minute in, Dominic Sasser connected with Bryce Bailey on a 52-yard catch and run. The PAT was good, and BC led 7-0. After a three and out from Hawkinsville, Willie Chambers blocked the ensuing punt. Working from the Red Devil 22, Sasser connected with Marcus Brown on a 23-yard touchdown. It was 14-0 Royals with less than two minutes played.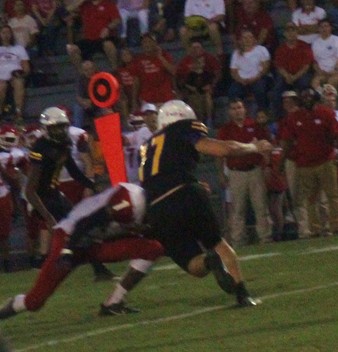 Luke Duffey tries to cut upfield after a catch.



The Devils appeared poised to score following a 60-yard run to the BC 15. However, the snap was bad on a 29-yard field goal attempt. Arkenzio Hayes recovered it at the BC 39. He would eventually score from eight yards out.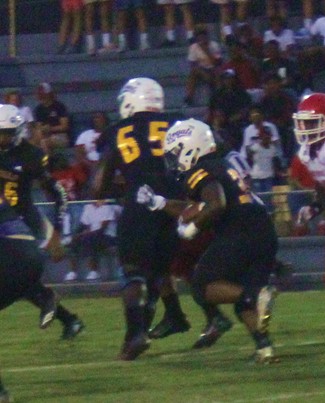 Patrick Taylor follows the block of Amarius Mims.



Bleckley struck again with 2:04 left in the first when Bailey connected with Jhamir Marshall from 15 yards out. The rout was on, it was 28-0 Royals. In the second, Hawkinsville again appeared poised to score, reaching the Royal 15. The threat ended when Willie Harris recovered a fumble on the 21. Set up by a 44-yard Javon Butler run, Hayes got his second touchdown of the game with 7:30 left.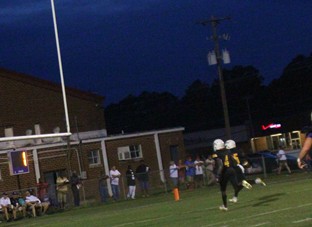 Bryce Bailey ran alongside Ty Williams' during his dash to the endzone.



Ty Williams got in on the scoring late in the half, dashing 63 yards. Bleckley took a 42-0 lead into the dressing room at halftime. In the fourth, Hawkinsville reached the BC 30 with about nine minutes left. However, Dytwon Ates intercepted a pass near the endzone, returning it to the 27. Following a penalty, the ball was moved to the 44.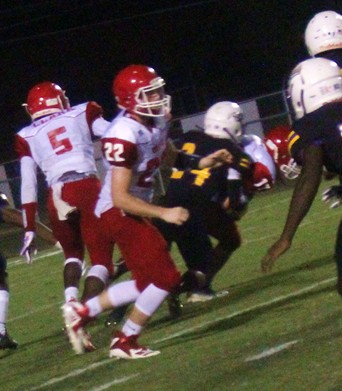 Christian Newbern wraps up a Hawkinsville player from behind.



Freshman T.J. Mays finished off the drive and all scoring with a 43-yard touchdown run. Though the point after missed, the Royals rolled to a 48-0 win.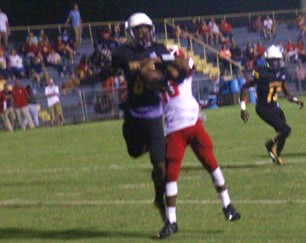 Shon Jenkins just missed an interception.



Sasser was 7 of 8 for 127 yards, two touchdowns. Bailey caught four passes for 85 yards. Williams ran for 91 yards on three caries. Butler had 82 yards on seven attempts.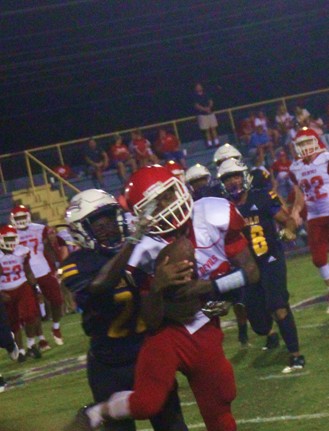 Jaden Mobley forces a Red Devil player out of bounds.



Bleckley hosts Veterans High School August 30 at 7:30 pm.



© Copyright by BleckleyProgess.com

Top of Page