---


One of the things that makes competition cheerleading such an exciting sport for many is the fact that at a competition, it comes down to who executes their routine the best that day. Past performances are irrelevant, only what happens within that two minute and 30 second timeframe.



That fact meant BCMS, a squad with ten sixth graders on the mat, had just as good a chance as anyone else at Tuesday night's MGMSAA region held at Jeff Davis Middle School. Despite the long trip and bad weather, a large purple and gold contingent was on hand for support.



Buoyed by that support, Bleckley had a top-notch performance. Everything stuck. Their motions were sharp. Good jumps, high energy. The only downside was a flyer leaning too far on the pyramid causing a weight bearing issue. Otherwise, it was BC's best performance of the season.



But what would the judges think? Often times at region, squads which went earlier would be scored more strictly. Plus, there other good performances including the host Yellow Jackets. When places were announced, the answer would bring joy to all Bleckley supporters.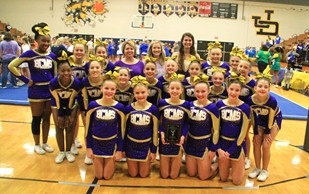 The squad with coaches Emily Raley, Elizabeth Brown, and Chara Nobles.



Second place, Bleckley County! Squad members and supporters cheered at the news. While winning region is always the ultimate goal, Tuesday night showed the young squad that was nervous before their first competition at West Laurens in September had grown and improved. And because of that improvement throughout, they were able to make their final appearance on the blue mat one to remember.



© Copyright by BleckleyProgess.com

Top of Page