| | |
| --- | --- |
| | Nov 17th, 2019 - 06:39:01 |
---


It's become almost old hat for BCHS. Having a good day at the finals, rebounding from a poor performance. But the story of redemption that took place Saturday in Columbus was one for the books.



Bleckley had to rebound from last weekend's heartbreak at region just to make it to the finals. Even then, there was a fear they wouldn't as it wasn't their best performance. Despite that, the Royals were fourth seed. Many believed Friday helped in curing the case of nerves that appeared to affect them.



As it was the finals, the group of supporters on hand at the Civic Center was larger. They waited through 41 other squads but roared loudly as Jeff Hulsey called them to the floor.



On a day in which the squad had to be at their best, they were. For the first time all season, everything stuck. Single base stunts, stunt groups, the pyramid. Coach Heather Davis, who was literally pounding the floor as she encouraged her girls to push through during the performance, ran to the mat to celebrate afterwards.



There was a sense of satisfaction afterwards. Everyone knew they'd left it on the mat with their best, cleanest, most energetic performance of the season. Now it was up to the judges. For the third straight year, Bleckley would be called to the mat as one of the top six squads in AA.



Hulsey would soon announce the Royals as third, a feat which hadn't taken place since the early 2000's. A look at the scoresheets afterward revealed the Royals missed winning a state title by one point. Though being that close did sting a little, no one was unhappy over what was another story of BCHS overcoming adversity to finish strong.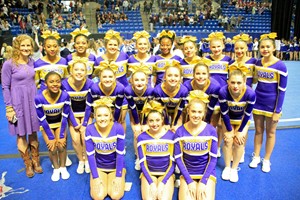 Coach Heather Davis and squad. Front row L-R: Nataly Lassiter, Abby McClure, Anna Brown. Middle row L-R: Alexis Johnson, Gabbi Ragan, Abigail Kirkland, Lindsay Martin, Hailey Merritt, Abbi Belflower, Taylor Raley. Back row L-R: Shy Chambers, Jayda James, Caroline Pittman, Hailey Rambo, Ebryanna Hall, Kirsten Villarreal, Amaya Smith, Amiyah Thigpen, Alexis Rogers.



In reflecting after a highly emotional weekend, Davis spoke of just how resilient this squad had been. "This group of girls is tough as nails! They are by far the most resilient I've coached, and they proved that this weekend. I am so unbelievably proud! They hit their best routine when it mattered most and beat all the odds. What a great way to send a wonderful group of Seniors out! I love them all so much and am blessed to be their coach! Go Royals!"



© Copyright by BleckleyProgess.com

Top of Page