---


After having the season delayed due to COVID-19, one act play officially began Thursday night as BCHS had the first of two community performances of this year's selection, "The Addams Family."


Wednesday loves torturing brother Pugsley (played Thursday night by Luke Churchwell.)



Based upon the classic sitcom, the story features Wednesday (Chloe Mullis) falling in love with a "normal" person, Lucas Beinecke (Ethan Hulsey.) Wednesday confides in Gomez (Demetrius Wells) the couple plan to get married. She arranges a family dinner with Lucas and his parents Mal (Josh Gilbert) and Alice (Lauren Coley) who are from Ohio.



Gomez convinces Morticia (Kate Adams) to agree to the dinner. But he is sworn to secrecy about the marriage plans, something he's not comfortable doing. Things get really interesting after dinner when they continue a family tradition of playing a game called "full disclosure." It seems as if the Adams aren't the only ones with secrets.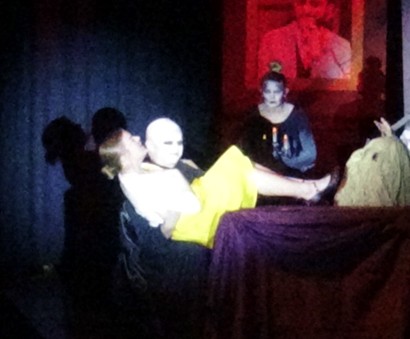 Uncle Fester (Beau DuBois) caught Alice after she drank from the chalice used in full disclosure that Pugsley spiked with a potion stolen from Grandmama (played Thursday night by Kyara Elvine.)



To find out what happens next, you can attend the next community performance on January 21 at 7:30 pm. Purchase tickets in advance on gofan.co BCHS will host region one act January 23. A limited number of public seats will be available.



© Copyright by BleckleyProgess.com

Top of Page