---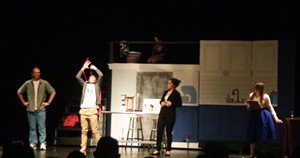 Katherine and Mike watch Fletcher, Ella's ten-year old, magic obsessed brother, perform a magic trick.



Bleckley County High School One Act held the third of four community performances of this year's competition piece "Freaky Friday" Tuesday night. As per usual, the play is directed by Kelli Greer with assistance from BCMS Theatre teacher Vicki Speck (co-director) as well as one act alum Spencer Maddox (choreography and set direction.)



For those unfamiliar, the play is based upon the Disney Channel movie, which was based upon the book first released n 1972. Ella Blake, a typical teenager, switches bodies with mom Katherine, who's organized to a fault, after the two break an hourglass left by Ella's late father. Both had said the other didn't understand how tough their life was.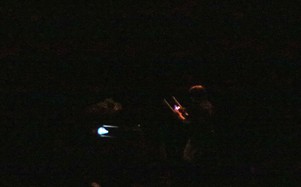 In this scene, Ella and Katherine swap bodies.



As a result of swapping bodies, Ella and Katherine get to walk in the other person's shoes (or in Kathrine's case, Ella's high tops.) Ella learns what it's like to be a mom, plus run your own catering business, while trying to plan your wedding. Katherine learns about Ella's high school life, her friends, as well as a guy Ella "really" likes.



There were parts double cast, so a few different people got stage time Tuesday night. As per usual with BCHS One Act, the show had a lot of energy and was fun to watch.



If you want to know how it turned out, come to Thursday's performance at 7:30 pm. Region competition will be held October 23 at Washington County High School. Bleckley's estimated performance time is 1:30 pm. Admission is free, masks will be required for all audience members.







© Copyright by BleckleyProgess.com

Top of Page