---


This year's BCMS Competition Cheerleading squad is young with seven members of the two-time region winning team now cheering for BCHS. Last weekend, the Barons had what was said to be a rough debut at the Raider Rumble in Dexter.



BC was back at Saturday morning at the Middle Georgia Cheer Classic. Though they were in the small school division, three of the schools in the division were bigger in size. Crisp County, West Laurens, and Perry.



Despite the early start time, a good crowd made the short drive over to support BC. What they saw was a better day. Stunts stayed up. Good energy, good tumbling. The young squad looked more at ease on the mat.



There were other squads to compete, eventually results were announced. Bleckley finished third. They were a point and a half behind second place Perry. West Laurens won the division.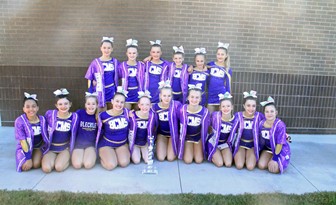 The squad with the trophy. BCMS is coached by Chara Smith and Sommer Howell.



While there are still places to improve, everyone was glad to have a better day. BC will keep trying to improve when they go to Vidalia for the Sweet Onion Cheer Classic October 1.



© Copyright by BleckleyProgess.com

Top of Page