---


In a season of challenges including unexpected departures during the offseason, illness, and one senior having to be replaced by a senior who had served as alternate for three years due to injury, BCHS had one last chance to impress at Saturday's state finals in Macon.



Bleckley was the 17th squad to compete. As it was state and close, there was a huge contingent of supporters in the priority viewing section who roared as announcer Jeff Halsey called them to the mat.



After so many frustrations with things like stunts not sticking, the pyramid dropping, it all came together. Everything stuck. Every stunt stayed up. The pyramid hit. Without question, it was BC's best performance of the season.



One user watching the livestream commented via social media how excited BC looked. Their energy was high, and it could be seen in the faces of the squad after their performance ended.



Bleckley would be called to the mat as part of the top six. Their recent streak of top four finishes continued, placing fourth.. The results did sting a bit after winning state last year. It was also frustrating to finish just 2.5 points out of first place.



Head coach Heather Davis though was very proud of their performance. The team had their best score of the season. Even more importantly, BC left it all on the mat.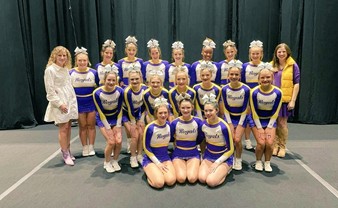 (Photo courtesy @BleckleyCheer due to miscommunication.) The squad with coaches Heather Davis and Allie Anderson.
© Copyright by BleckleyProgess.com

Top of Page