---


BCHS made the short trip Saturday to West Laurens for the Raider Rumble. The Royals were coming off a solid debut at last week's Middle Georgia Cheer Classic.



A large group of family and friends made the short trip to support the squad. DJ Michael Dukes, as he's done before, played "Royal" by Lorde as he called BC to the floor.



What fans saw was another good performance, Good tumbling, solid jumps, great energy. One stunt group came down early and there were things with the pyramid that could be improved. But all in all, the Royals had a good day on the mat.



Though BC is in Class A, Division 1, all of Class A was combined into one category. Third place, Schley County. Second place, Irwin County. First place, Bleckley County! The squad and supporters cheered loudly as they heard the news.



Head coach Heather Davis noted they had added difficulty to the routine this week. She sad their focus was on themselves, working had and getting better every week. She made sure to stress she was very proud of the girls.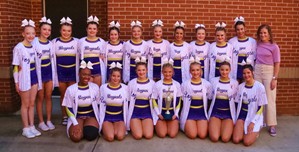 The squad with head coach Heather Davis.



Bleckley travels to McDonough for Ola High School's "Quest for the Best" October 7.



© Copyright by BleckleyProgess.com

Top of Page