---
"I'm a busy person," says Lauren Coley. The 11-year old daughter of Chris and Carla Coley certainly does have a full life. She's a member of the BCMS softball team, is in the FIrst Baptist Church choir, does Bible drills, and is active in 4-H.

Lauren though has another passion, being on stage. This past spring, she did an interpative dance in "Bleckley's Got Talent," hosted by the Royal Singers. She was in the cast of Bleckley Summer Theatre Camp's performance of "High School Musical."

But that wasn't her only experience on the stage. July 11-18, Lauren, along with her parents, flew to Los Angeles, California. Lauren had been chosen to participate in an acting school called "The Celebrity Experience" that could potentially lead to future opportunities.

How did it happen? One day in December while riding home with her dad, Lauren heard a radio commercial about the opportunity to try out for the school.

After talking to Carla, they went to a hotel in Macon the Saturday of that same week. Lauren was selected and had the option of going to Los Angeles or Miami. But like any school, there was homework that had to be done in preparation for the trip.

She had to watch training videos. "I also had to learn two monologues, two scenes, and one commerical," Lauren added.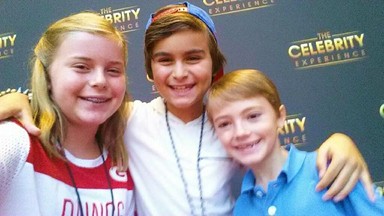 Lauren with Chance Hurstfield of Project Mc2 and Jackson Robert Scott who will be appearing in the upcoming remake of Stephen King's "It."



While admittedly nervous about going out there, Lauren also said she was "pretty excited." Her main thought was "I hope I do good." After arriving around midnight local time, they had orientation the next day. Lauren said she learned a lot of things and met a lot of "cool people." They practiced their scenes and monlogues with each other.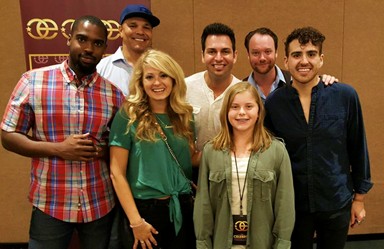 Lauren with school CEO Adrian R'Mante and some of her other celebrity coaches. Their roles included "The Suite Life on Deck, Glee, Pair of Kings, and Grim."



Another part of her experience was doing a "film reel." It's where you go onto a set and practice a scene. Lauren's scene was a comedy, her role was a cheerleader. She said her sister Amanda being a former BCHS cheerleader helped. They'll get the film reel back, and can send it to agents who are looking for different parts.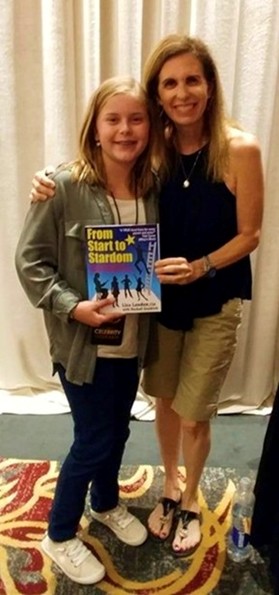 Lauren with Lisa London. (photos courtesy Coley family.)



Lauren said it was cool being on a set, there was a makeup artist there. She met Casting Director Lisa London, who's credits include Disney TV shows "Hannah Montanna," as well as "The Suite Life of Zack and Cody." Lauren said of the meeting, "She was pretty inspiring."

After it was all done, Lauren said she was "kind of anxious," because she wanted to start using what she learrned. They are pursuing future opportunities, sending head shots to Atlanta-based agencies. Carla pointed out that with softball, they had to focus on weekend opportunities for now. That will change though once the season ends.

Carla also said there were plans to pad Lauren's resume wiith other acting opportunities. That includes being involved in middle school plays directed by Kelli Greer. Carla also said they were looking into other community theatre groups like Macon Little Theatre, Perry Players, and Warner Robins Little Theatre.

Lauren isn't worried so much about whether her caeer choice leads her to the stage or big screen, she just wants it to be special. "I wanna be big." Several of her friends believe she will be big, Lauren said they told her "When you're on Disney Channel, remember me."

Carla and Chris are both ready to help Lauren pursue her dream, wherever it may lead. That includes her making the trip to Califronia on July 11 despiite having an emegency apendectomy the day before. She said they went to help Lauren prepare for any opportunities that may rise in the future. Carla though added they're realistic. "It takes a lot of hard work. You have to be told no a whole bunch of times before you get one yes."

Carla said Lauren knew this, and was told it in California. She added that if you're gong to get discouraged, you shouldn't do this, because you'll be told no a lot. Carla described this as a "journey," saying "We just do it until God finds whatever it is He wants her to do."



© Copyright by BleckleyProgess.com

Top of Page