---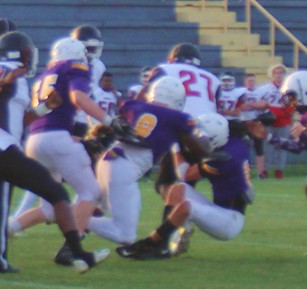 Willie Chambers and Lane Kitchens team up for a tackle.



Spring practice officially began year two for BCHS football under Von Lassiter. For a second straight year, fans got a sneak pee on 2018's team as the Royals hosted Howard High School in a spring game Friday night. The team lost 13 seniors.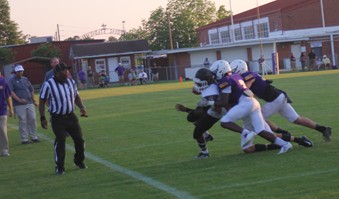 Two Royals force a Howard player to the sideline.



As it was a scrimmage, no official score was kept. Special teams play was limited, no kickoffs to begin either half nor returns.


DeAndre Pitts delivers a hit.



Not surprisingly, there were both good and bad plays. Nykeem Farrow scored three touchdowns. The first came when the BC offense was on Howard's three, Farrow was stripped when trying to run it in but recovered the ball in the endzone.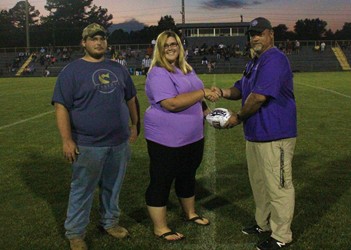 Midstate Pools of Warner Robins was Friday's game sponsor. Pictured L-R are owners Nathan Bradoman, Sydney Googe, and Touchdown Club President Brit Stewart.



Farrow also had a touchdown run and turned what was a screen pass into a touchdown with 20 seconds left in the half. Though the defense gave up two first half touchdowns, one coming on a third and six deep inside Royal territory, a second quarter interception by Ty Williams in the endzone stopped a third Huskie drive.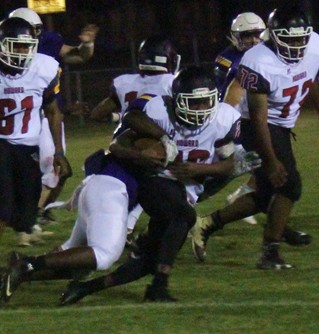 Arkenzio Hayes wraps up a Huskies player from behind.



Howard scored touchdowns on two consecutive drives in the third quarter and made both extra points after missing both in the first half. A Bleckley drive into Howard territory ended with their third fumble. Reserves played for both teams in the fourth quarter. Neither team scored though a BC drive was stopped by an endzone interception.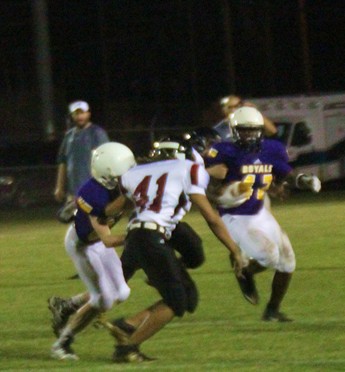 Scooter Slappy tries to get to the outside.



BC opens the regular season August 17 at Hawkinsville.



© Copyright by BleckleyProgess.com

Top of Page