---


It was another early morning for the BCMS competition cheerleaders at the West Laurens Raider Rumble. Their division started at 9 am. The Barons also faced a lot of competition, eight squads were in the small middle school division including region rivals East Laurens, Dodge County, and Jeff Davis.



A large contingent of purple and gold supporters were on hand to watch. As "Royals" by Lorde played, BC took the mat. While not a perfect day, it was still a good one overall. Good energy, good tumbling, good jumps. A stunt group came down early. One toss didn't go up in the air as planned.



They were able to complete the pyramid despite difficulty during the transition. Supporters gave the squad a loud ovation following the routine. Later on, they'd have even more reason to cheer.



It was time for the awards presentation. Small school division. Third place, East Laurens. Second place, Worth County. First place, Bleckley County! Screams of joy erupted from the corner of the mat where they awaited results, fans also celebrated the news.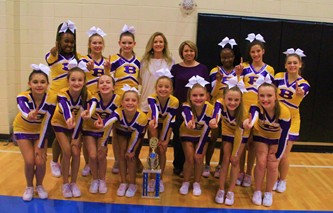 The squad with coaches Liz Brown and Emily Raley.



The Barons return to action October 13 at the East Laurens Falcon Frenzy.



© Copyright by BleckleyProgess.com

Top of Page