---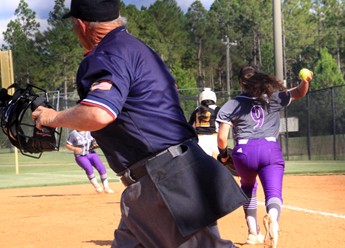 The umpire moves as Caroline Thrower fields a bunt.



For five and a half innings, BCHS hung right with Dodge County in Wednesday night's region title game. After innings where the Lady Royals would strand a runner on base or be retired in order, head coach Teresa Gray could be heard yelling "you don't score, they don't score." That kept happening until the bottom of the sixth.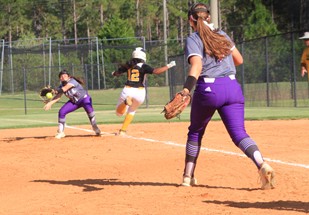 Clara Rickerson received the ball at first just in time.



Dodge scored three time, breaking a 1-1 tie. E'Lisia Vickers reached on an error with two outs but there would be no rally as Bleckley lost for the 11th straight time to Dodge County, 4-1. Landa Dominy accounted for three of the team's seven hits, going 3 for 3 with a double. BCHS stranded seven.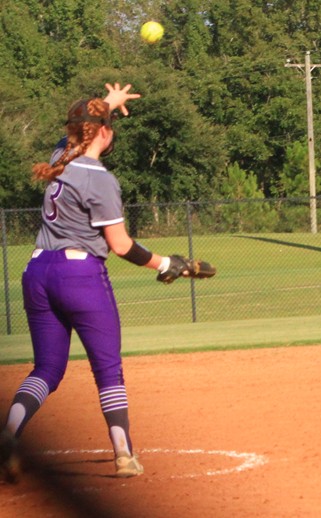 Bailey Odom throws to first.



A pair of big innings helped the Lady Royals get past a scrappy East Laurens squad. Down 3-0 in the third, Abbey Sims' belted a grand slam. The Lady Falcons answered with two in the fifth. Sims and Dominy had back to back doubles in a four-run bottom of the sixth. All the runs came with two outs.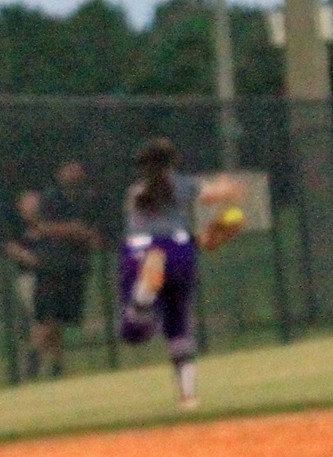 Emily Sanders made this running catch of a foul ball.



Though East Laurens loaded the bases in the seventh, BCHS held them to one run in winning 8-6. Sims finished 3 for 4 with 5 RBI. Bailey Odom was 3 for 4 with 1 RBI. E'Lisia Vickers went 3 fo4 with a double. Caroline Thrower was 3 for 4.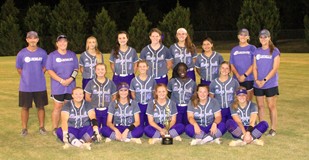 Seated L-R: Landa Dominy, Macey Haley, Bailey Odom, Miranda Pearson, Abbey Sims. Kneeling L-R: Darci Dillard, Addisyn Keel, E'Lisia Vickers, Mallory Sears. Standing L-R: Coach Phillip Hart, Head Coach Teresa Gray, Reagan Wimberly, Emily Sanders, Riley Edge, Caroline Thrower, Clara Rickerson, Coach Katie Beard, Coach Jaye Hilliard.



Bleckley will once again be the second seed from 3-AA in the upcoming state playoffs. Details are TBD.



© Copyright by BleckleyProgess.com

Top of Page